17/06/08. OK quiz time until I find out what it is. My mate John has very kindly donated this little scooter to me but I've yet to find out what it is as the only place there is any writing is on the seat which says Piaggio. So at least I think it's Italian. So if you think you know what it is by all means use the forum to let me know! I don't plan on riding it but for a while now I've fancied adding one to the collection. As you can see in the photos it needs a lot of work. I'm in no hurry and I don't care if it never goes as it's realy only going to be a show piece in the garage.
13/08. Forgot to update this. After joining the Vespa UK forum it took the guys there all of 5 mins to tell me it's a Vespa 50. From what we can gather it's early 80's. I'm in no hurry but will get the frame number verified with the DVLA at some point. Although I wont be starting to it for a while I couldn't resist starting to but bits for it. First thing was the badge that goes on the front.
And a new speedo.
31/12/09. Thoughts for the year. Not many I'm afraid. The scooter is on a very long hold and I have still no idea when I'll get started to it..
18/02/13. Wow has it been that long since I was at the vespa. My Dad has been complaining of nothing to do and it dawned on me that he might like to have a go at stripping the Vespa. He said he would live to have a go at it. So my brother and I pulled it out of its slumber over the weekend and dropped it off with him tonight. I don't think he realised what is ahead of him!
Now were do I start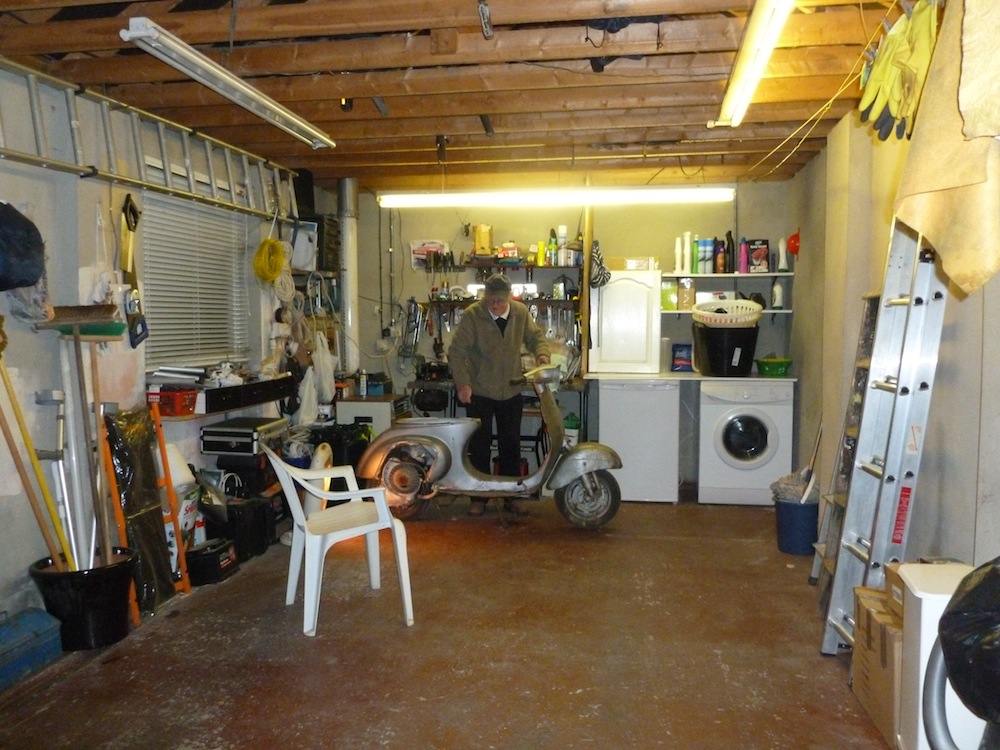 I'll start with taking the cover off were the speedo should be?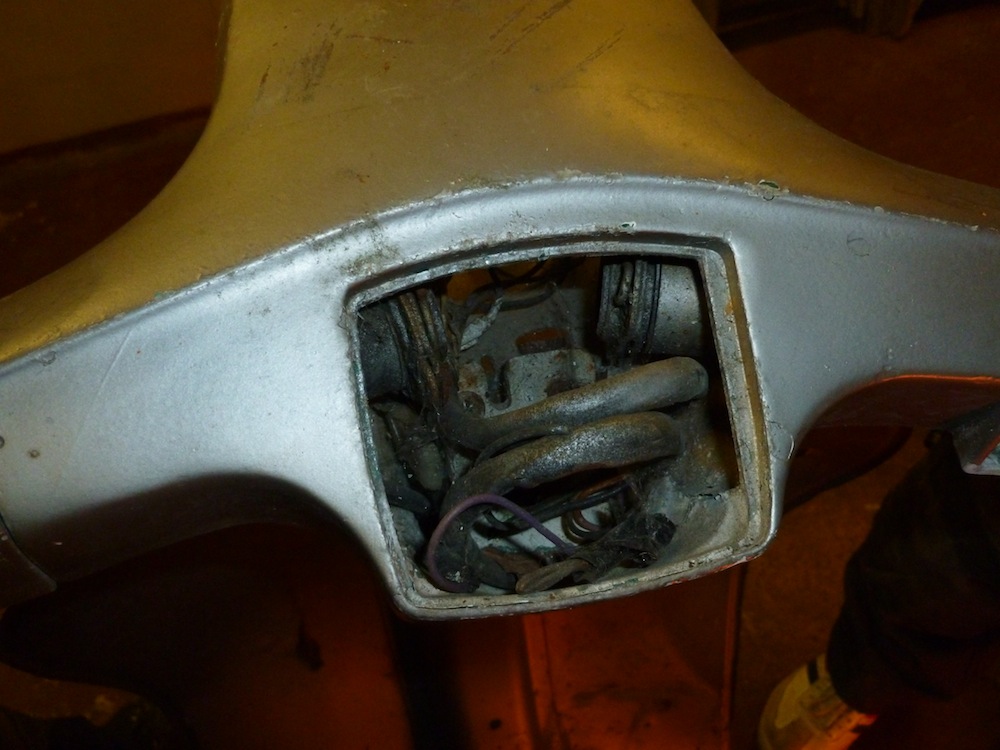 21/02. I got a call from my Dad tonight, "you may come round". I did and he'd already got the engine out, still attached to the rear wheel but its out.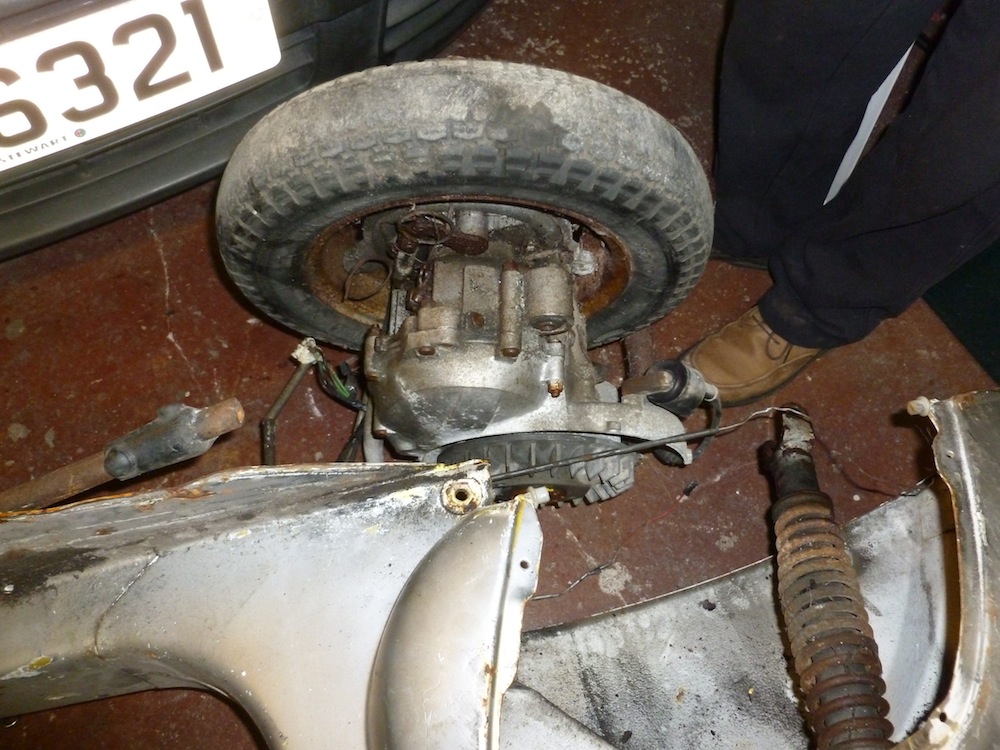 It still has a spark plug.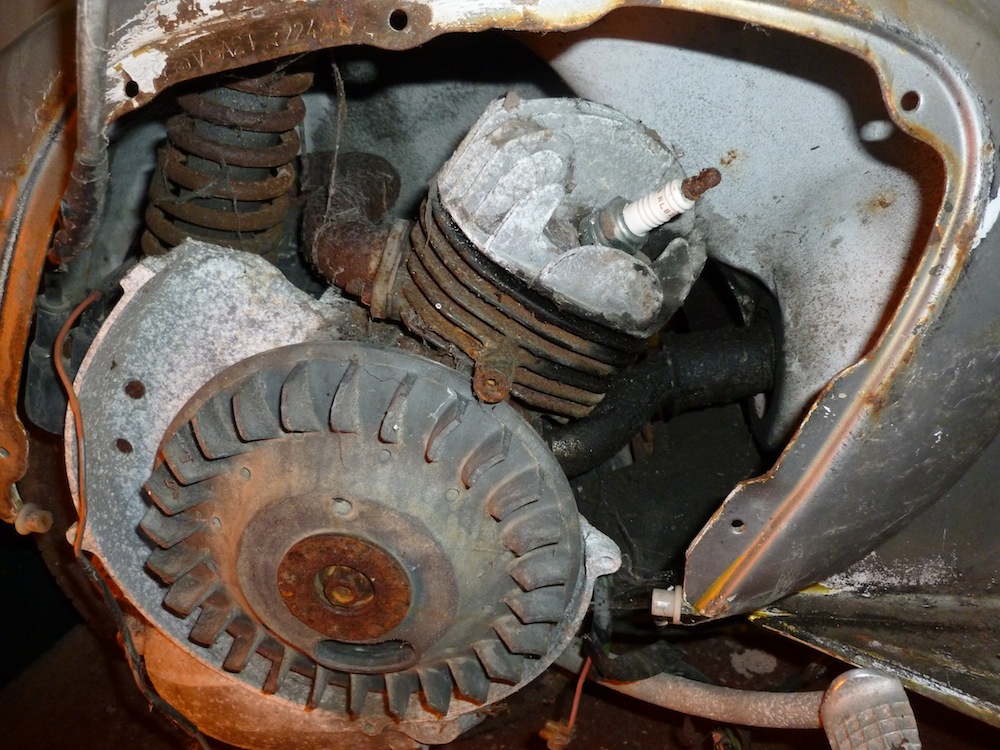 And some very choice wiring!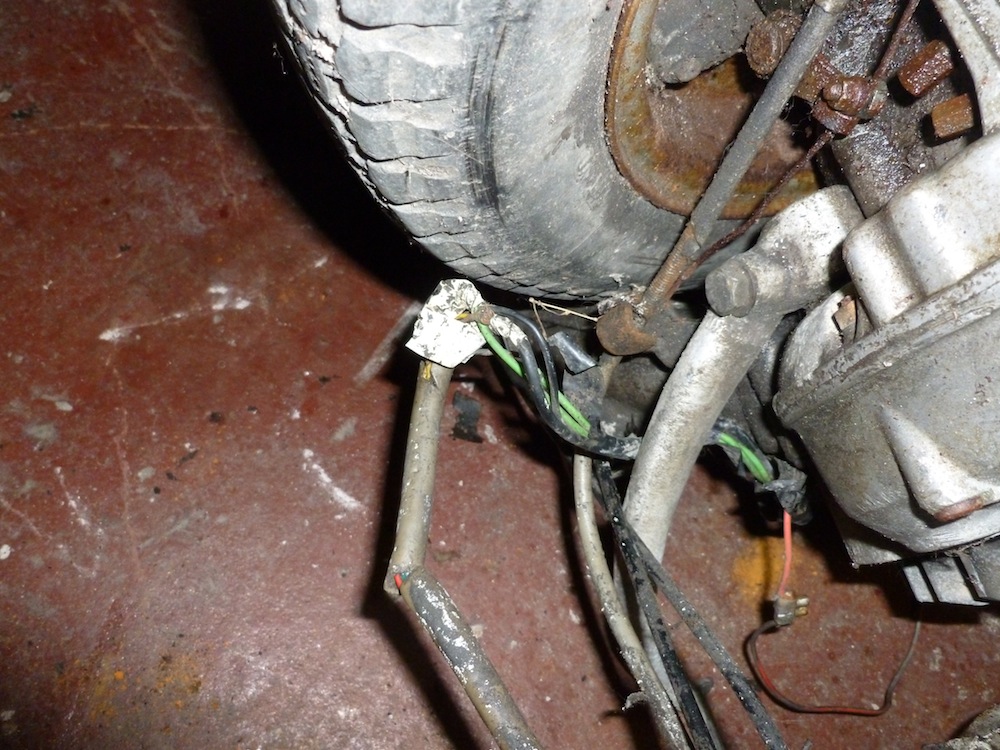 A good point is it seems pretty good inside the wheel arch, fender or whatever its called.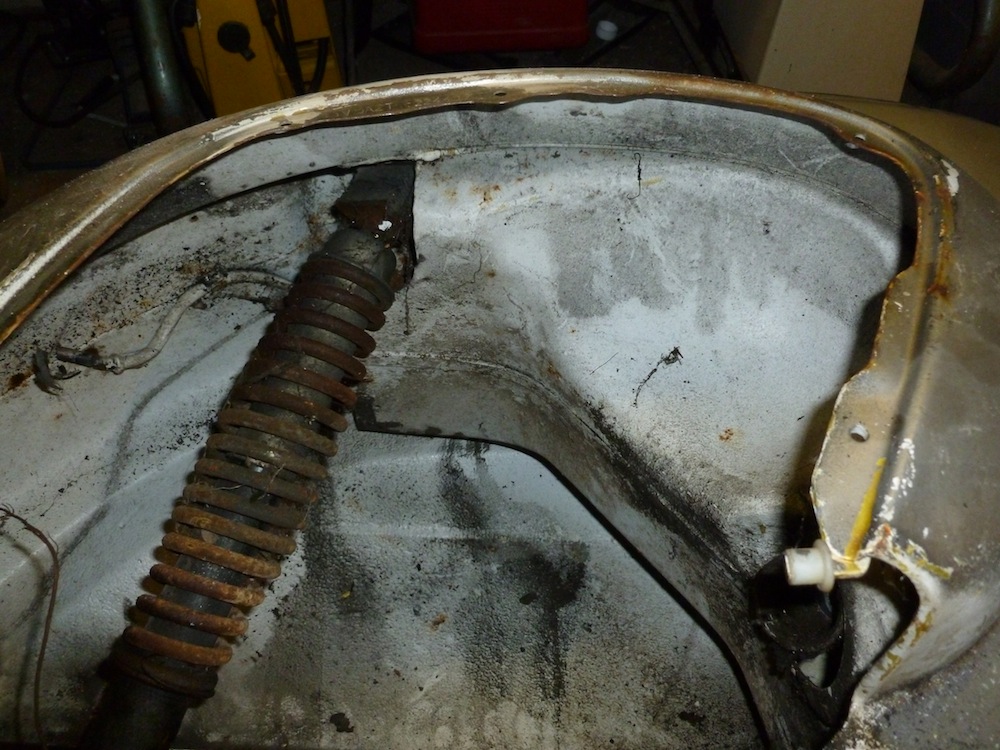 Father has a novel way of setting the Vespa up to strip it! First put it on its side.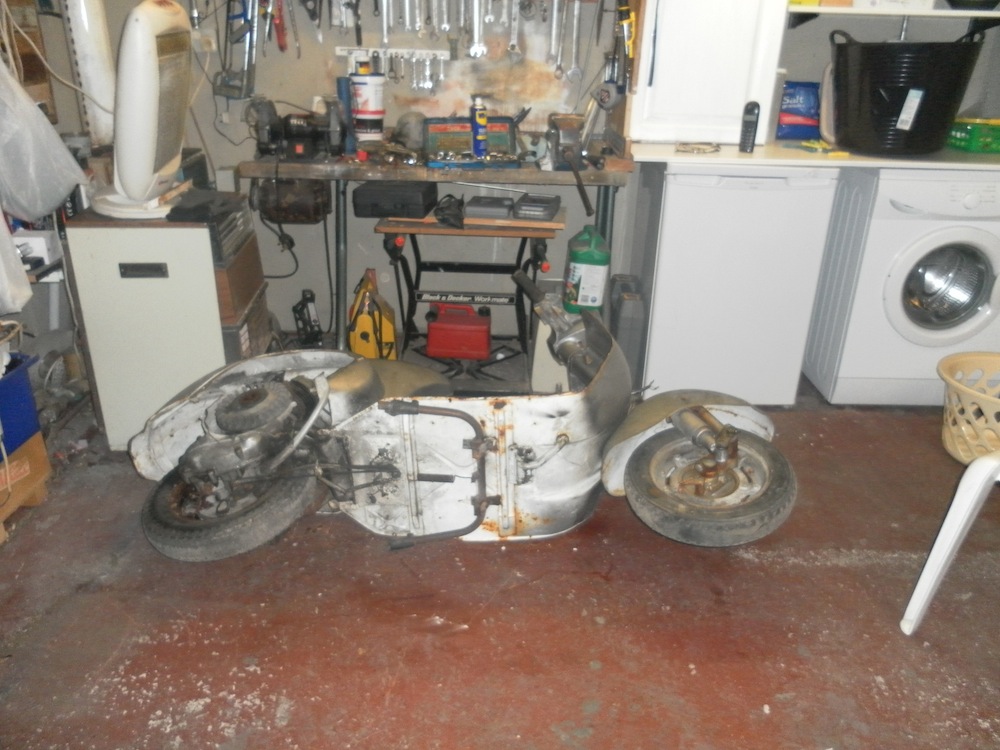 Then upside down.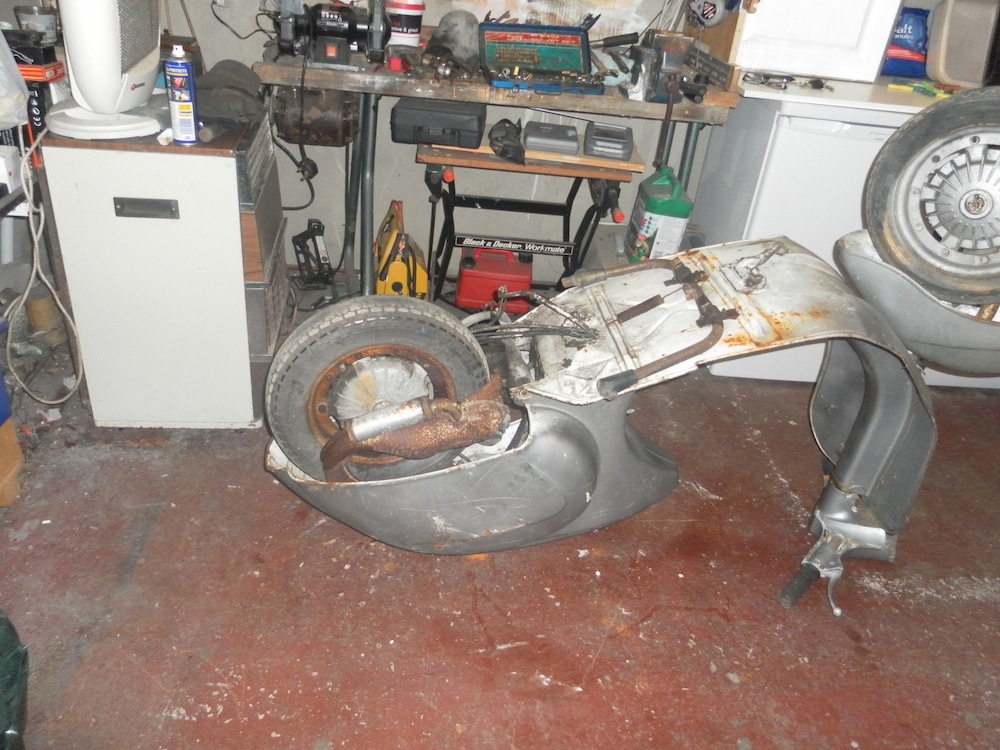 Much easier to work at now and in no time he has the engine and wheel off.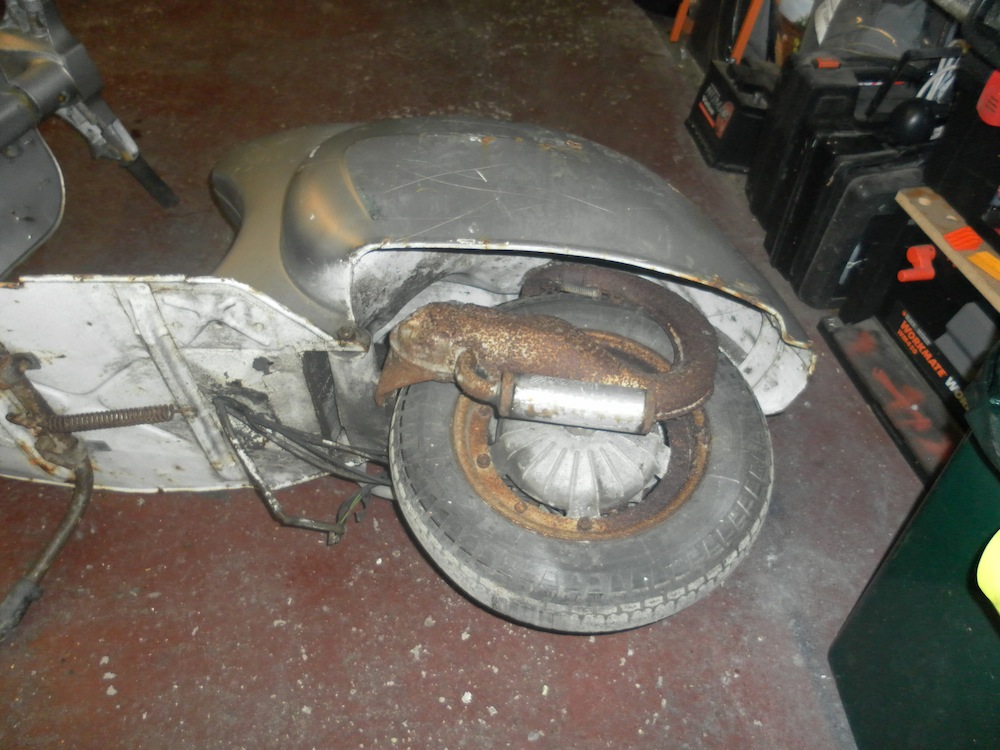 And out on the floor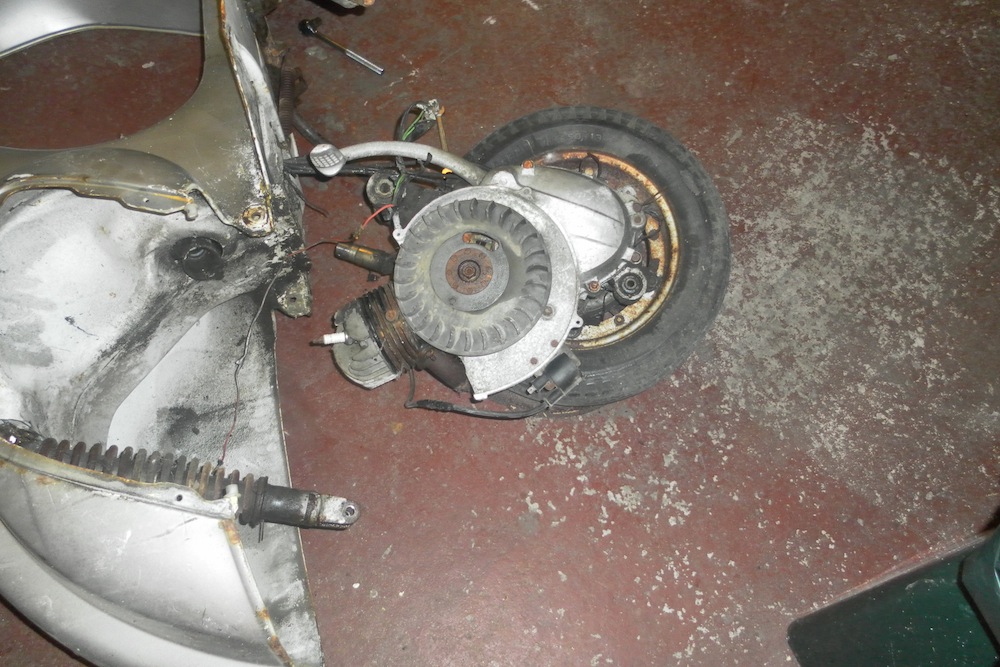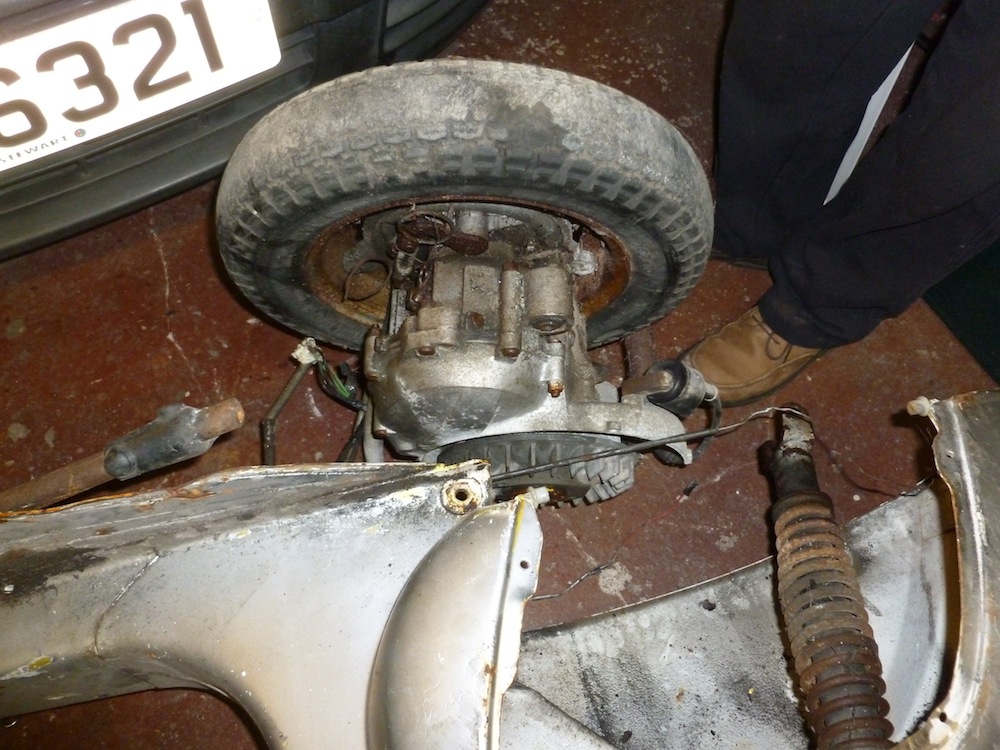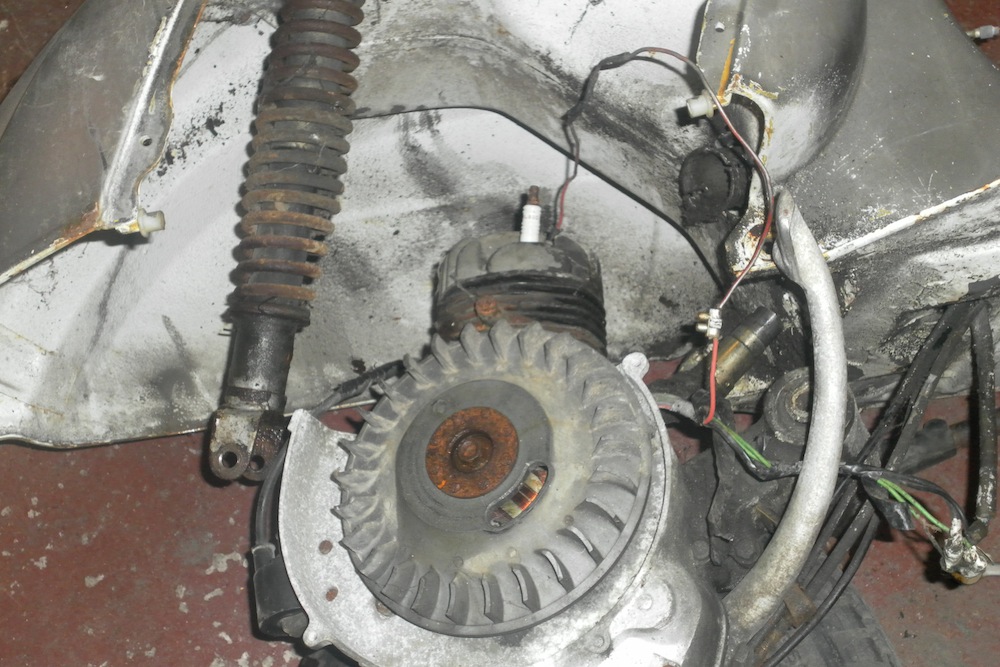 Engine out and on the bench ready for checking over.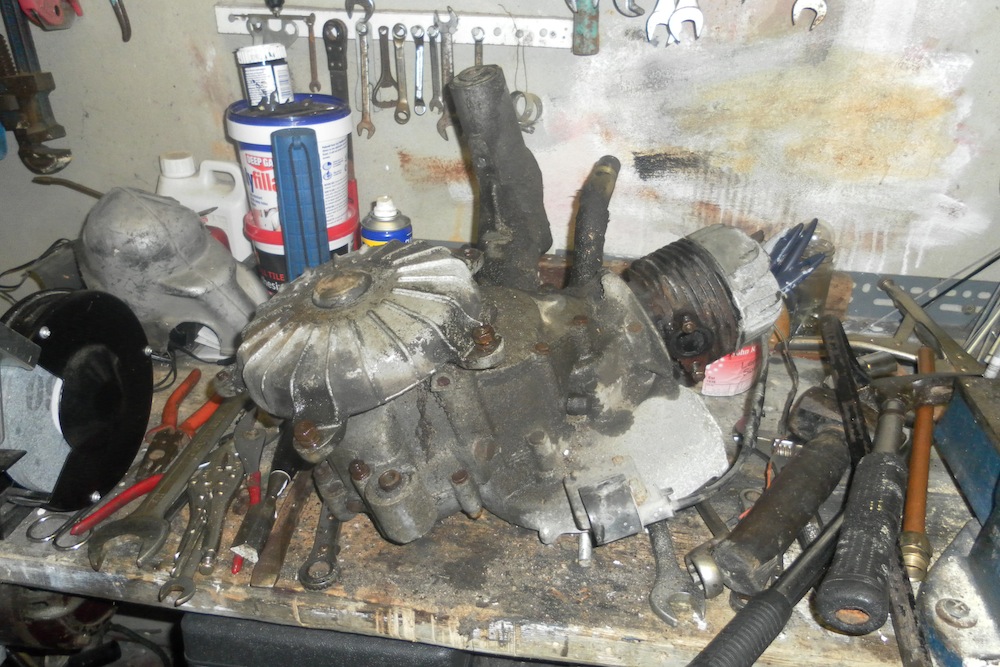 Next was the front end.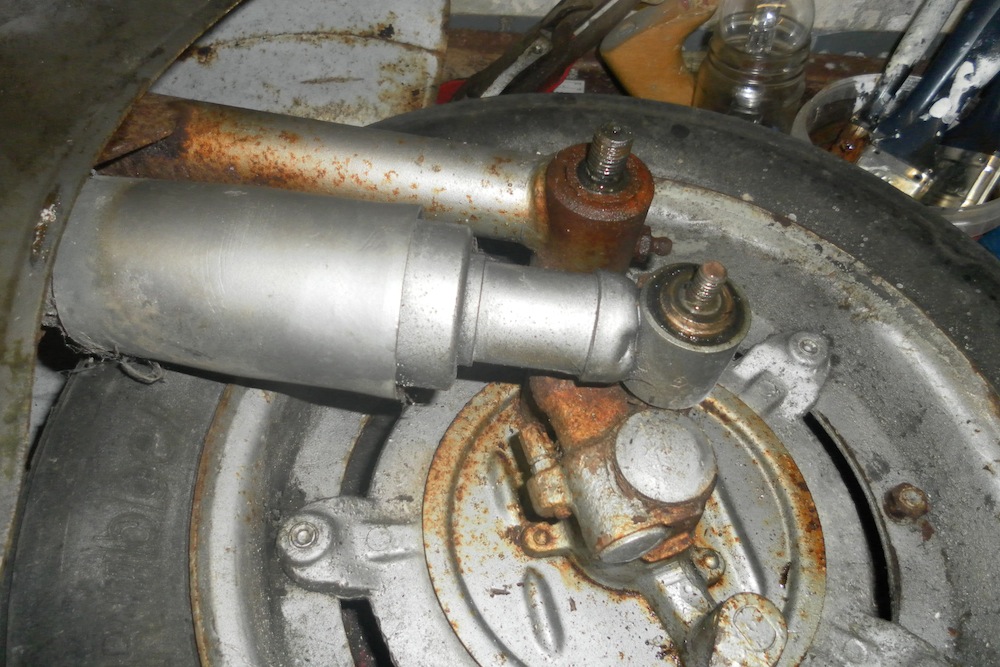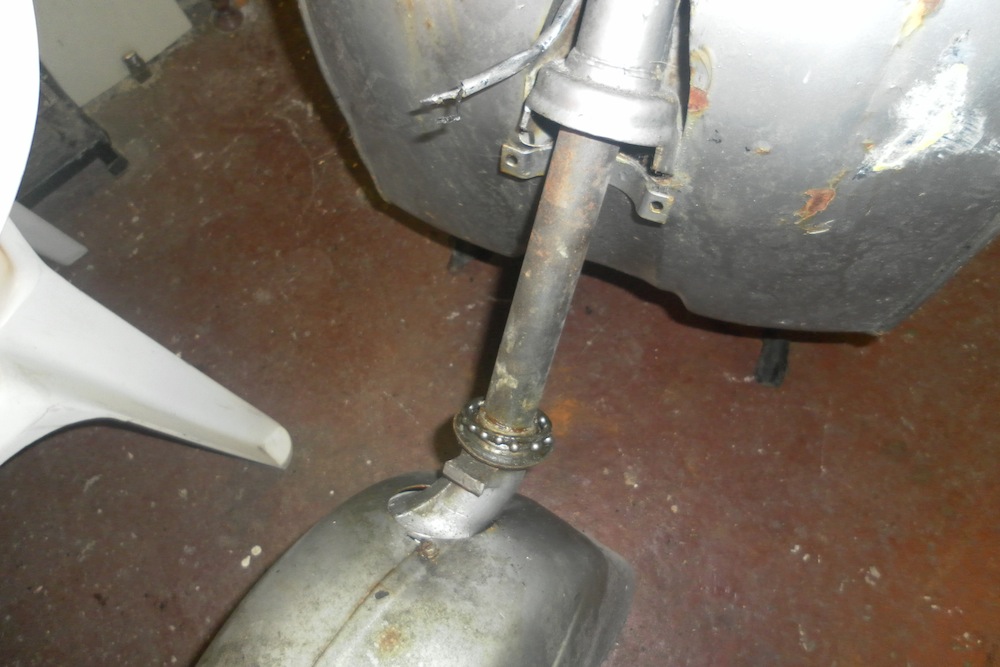 Nut on the front wheel wouldn't come off for him so I'll have to sort that later.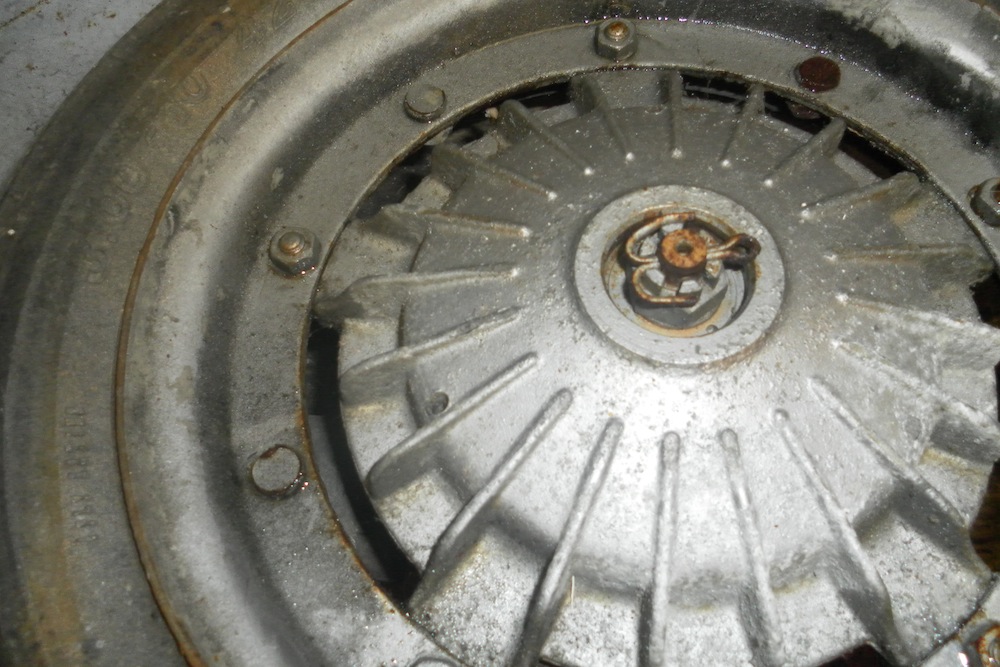 It didn't take Dad long to have the Vespa stripped, I really thought it would.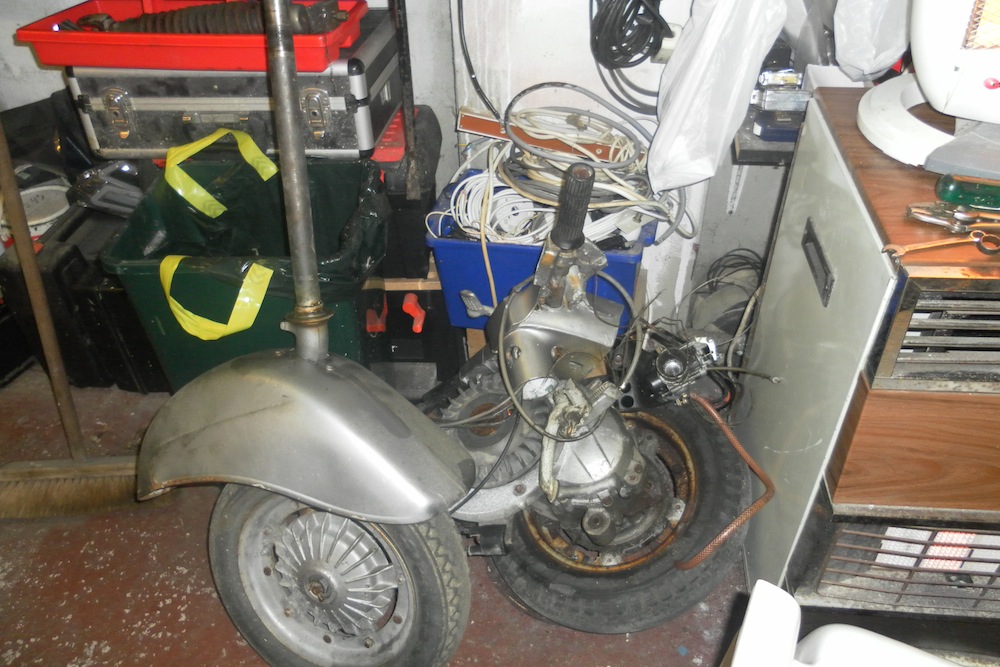 With the bike down to the shell I now have a good idea of the amount of work that is going to be required to restore it.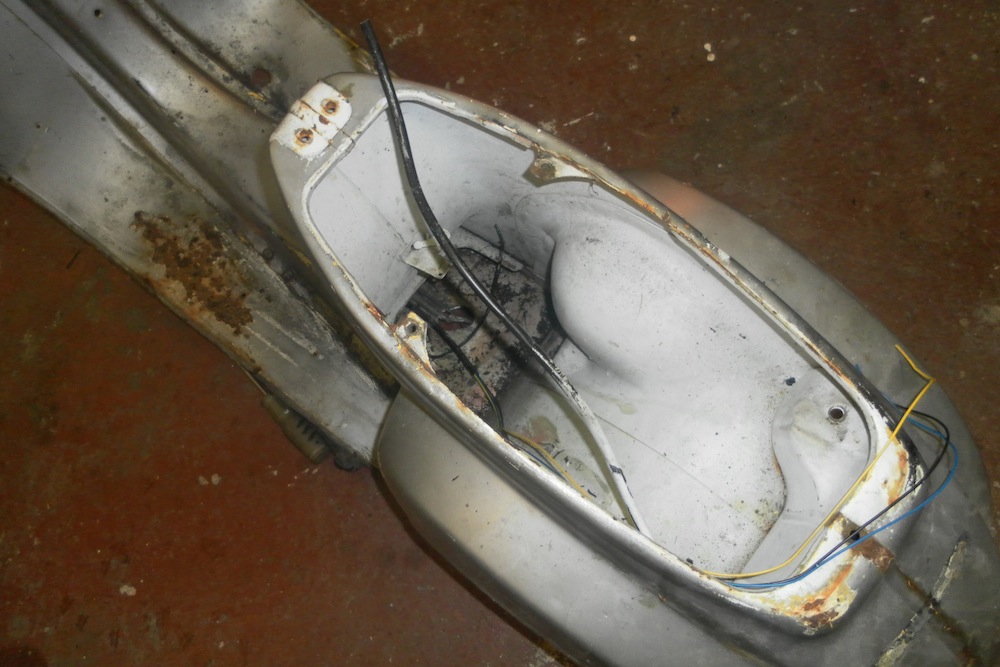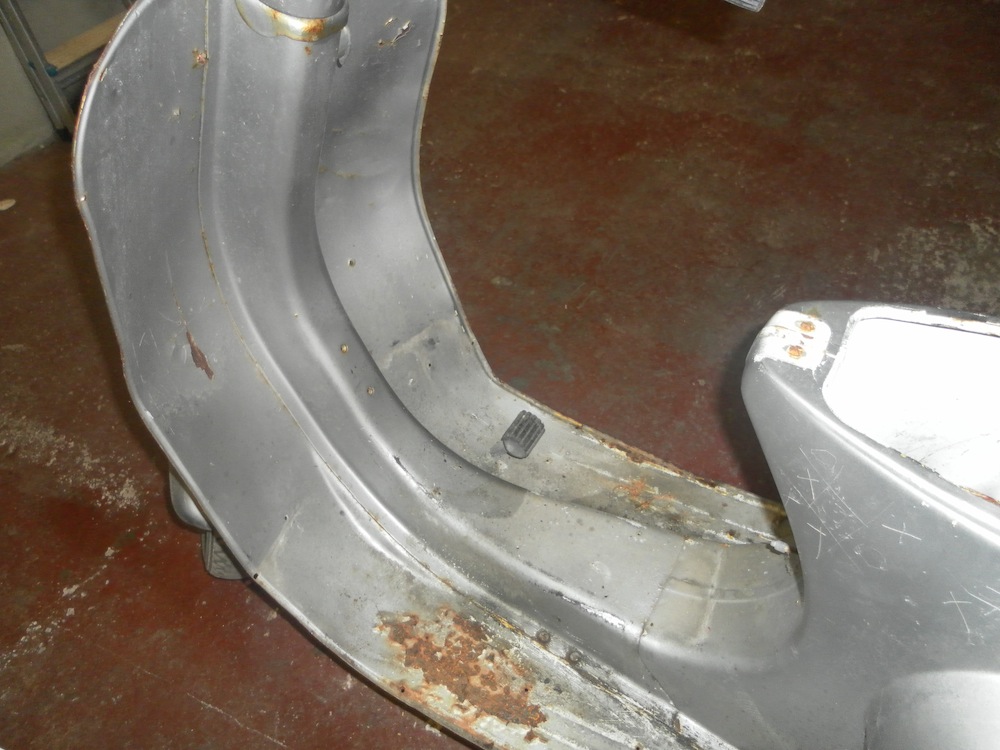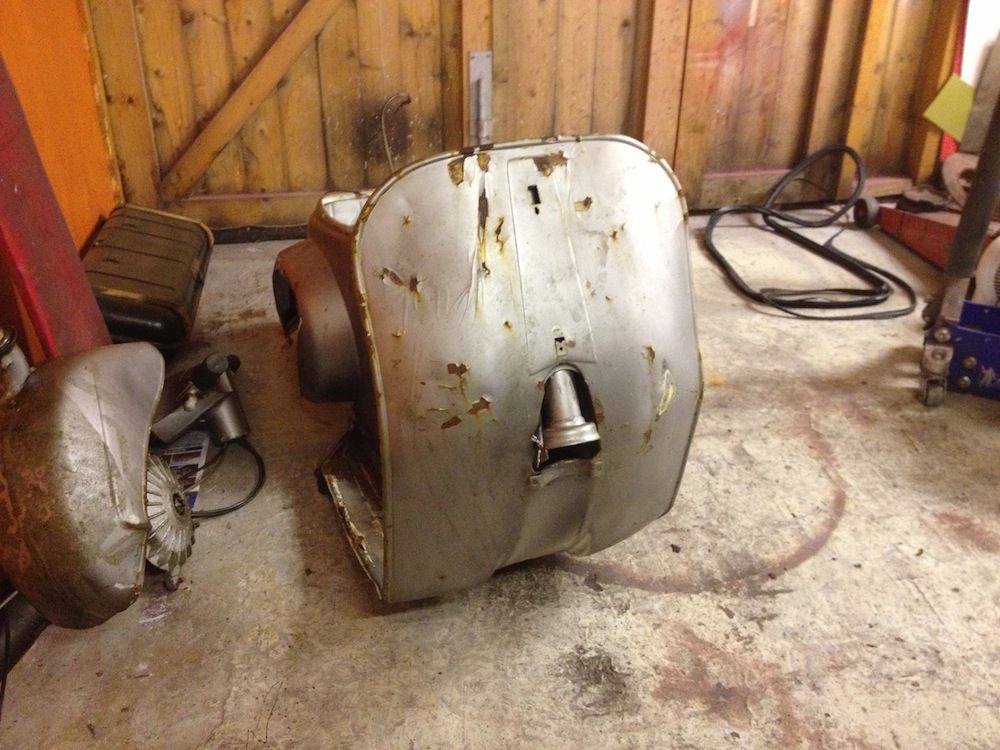 Old beer kegs are very useful. There's a lot of work to do.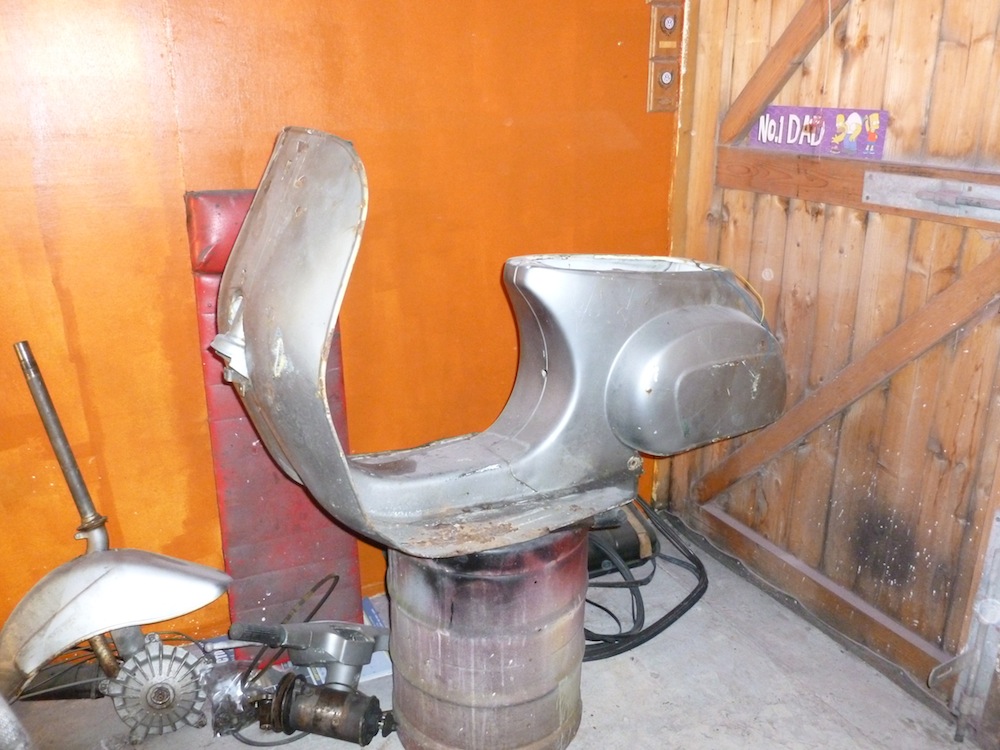 16/04. I had sent the frame to my friends at Canavans Auto centre for blasting and it came back today. There's a bit of work to be done but I'm pleased that only a small part of the floor needs replacing.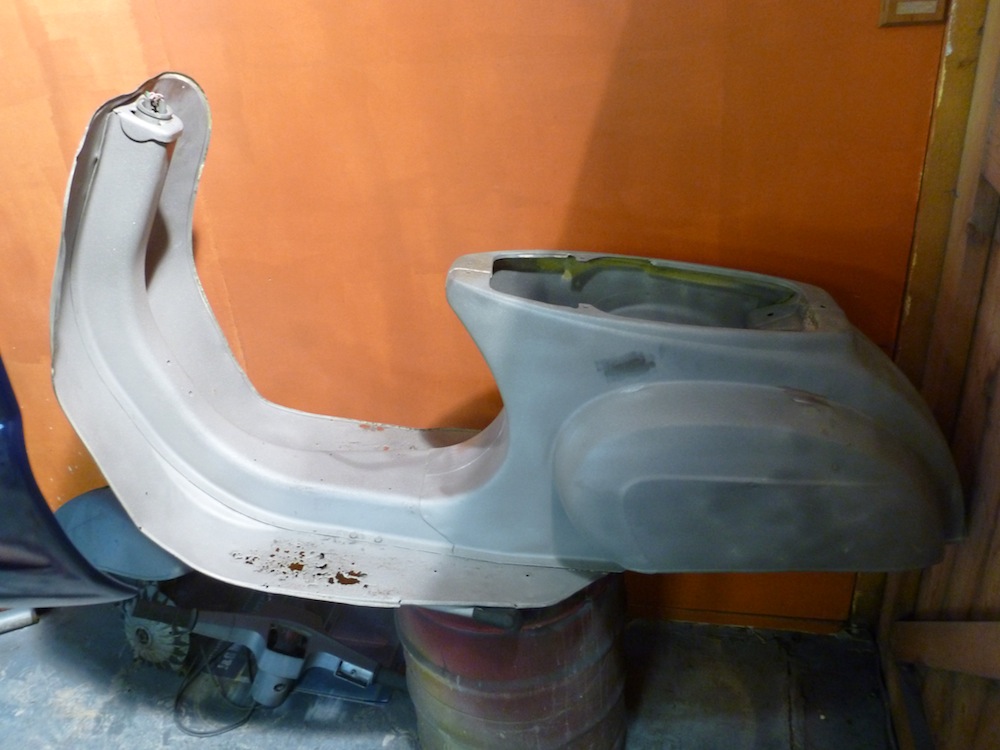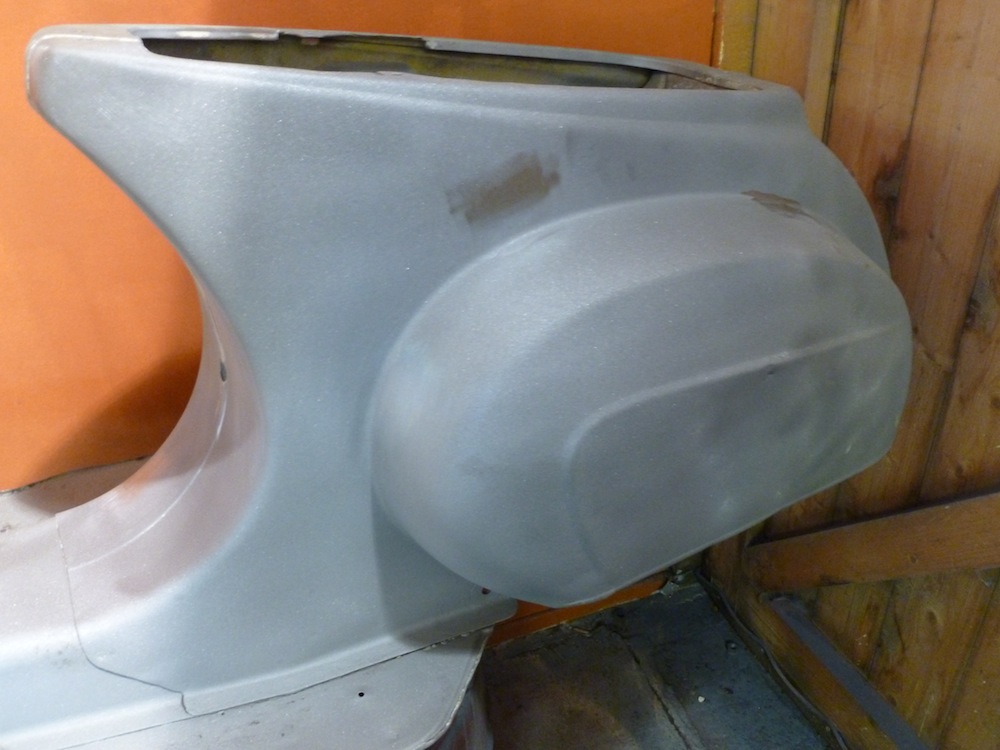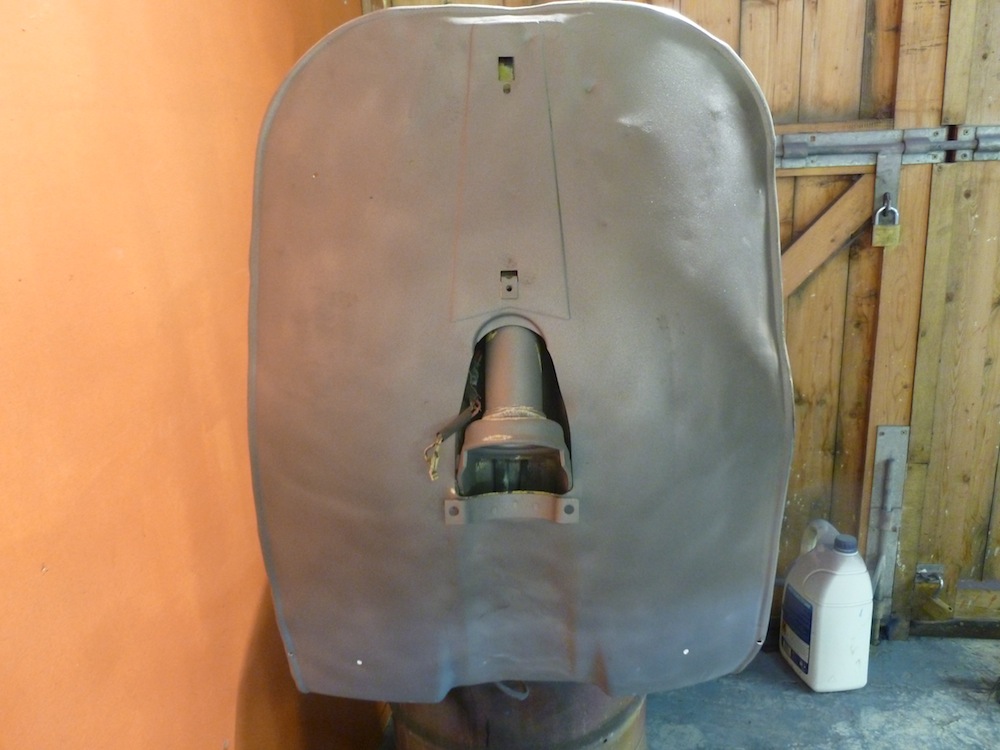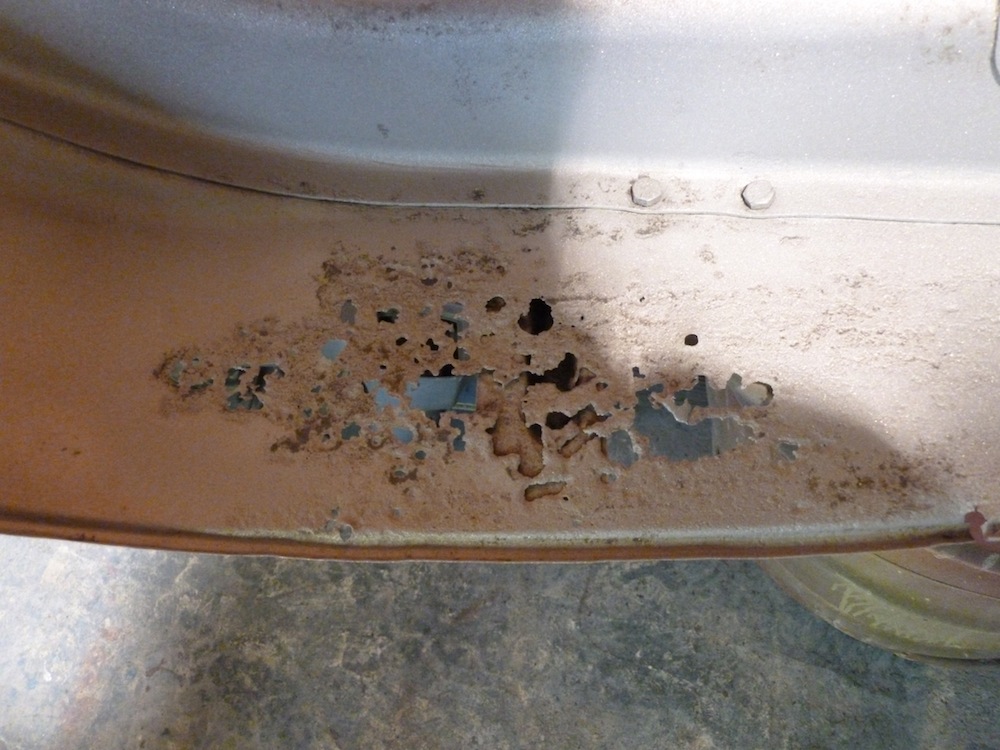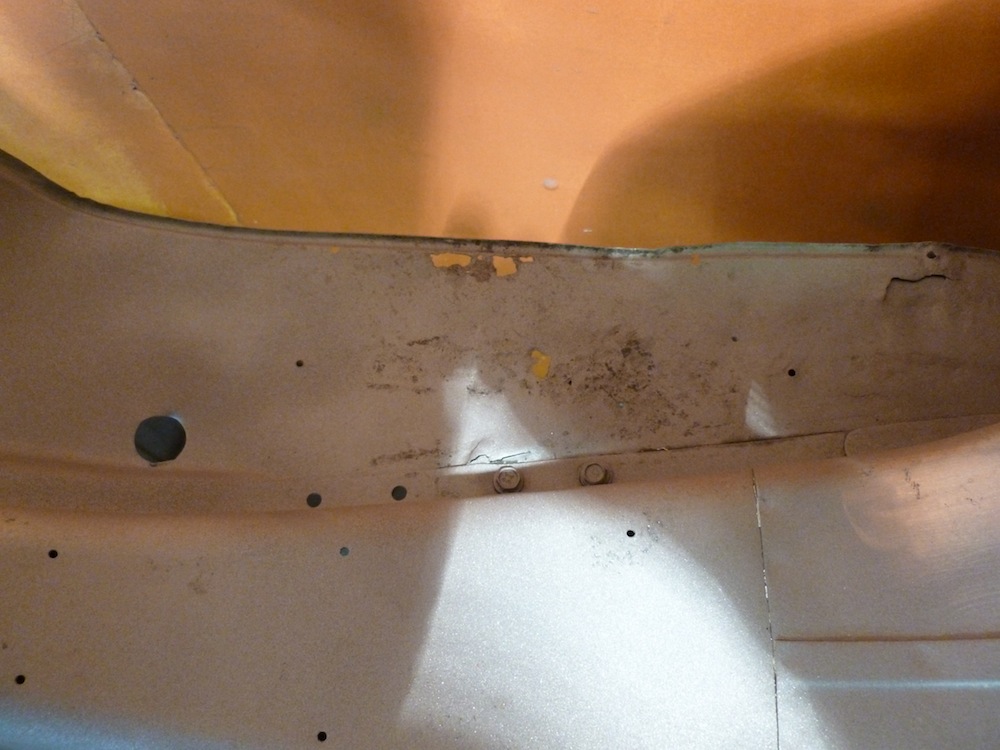 20/07. Had a little time today so cut the rust out of the floor of the Vespa and fitted in new metal. As this is the part of the floor that gets quite a bit of use I used a stronger sheet metal to give it strength.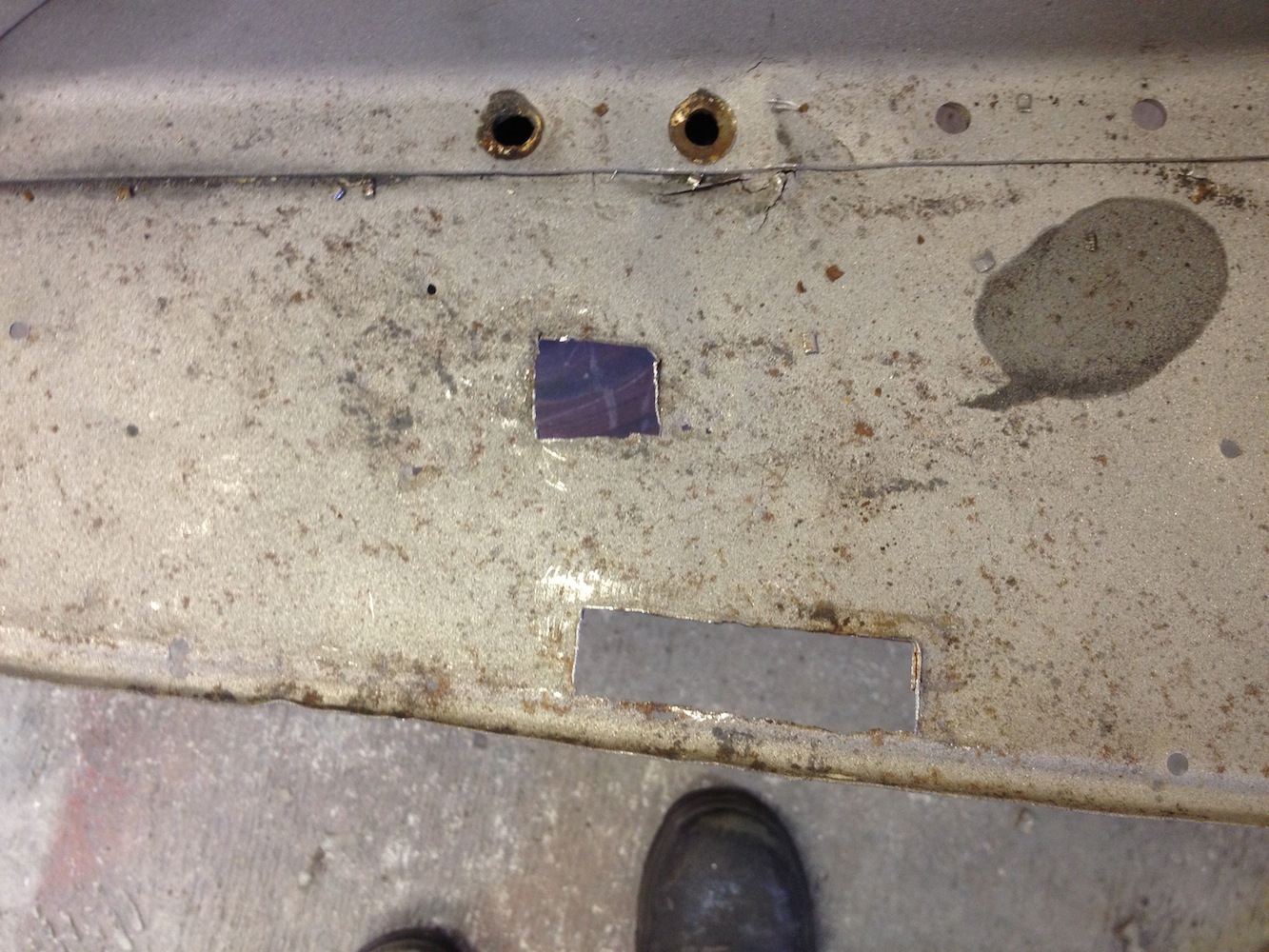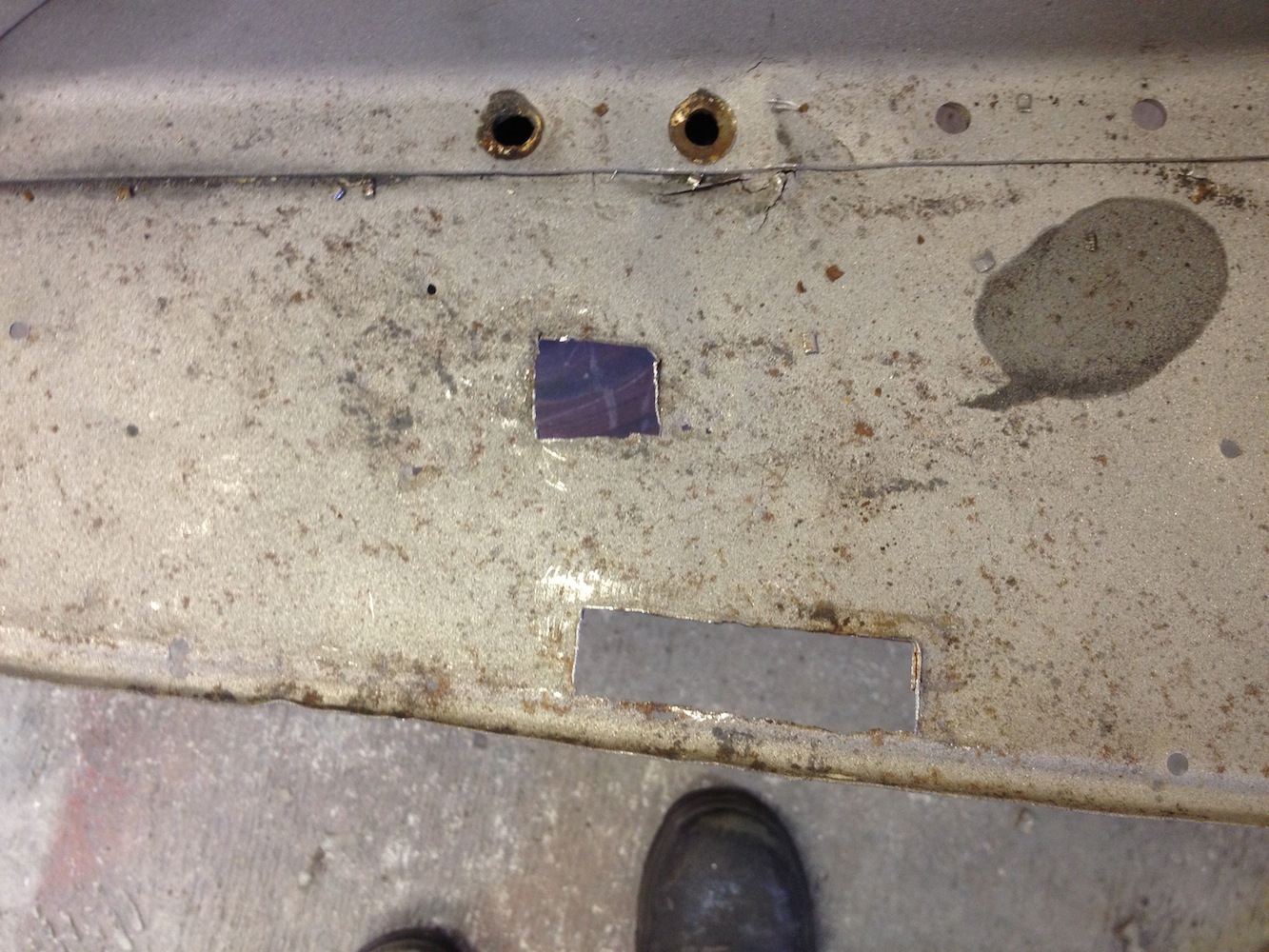 Once the new metal was in it was ground flat ready for preparation.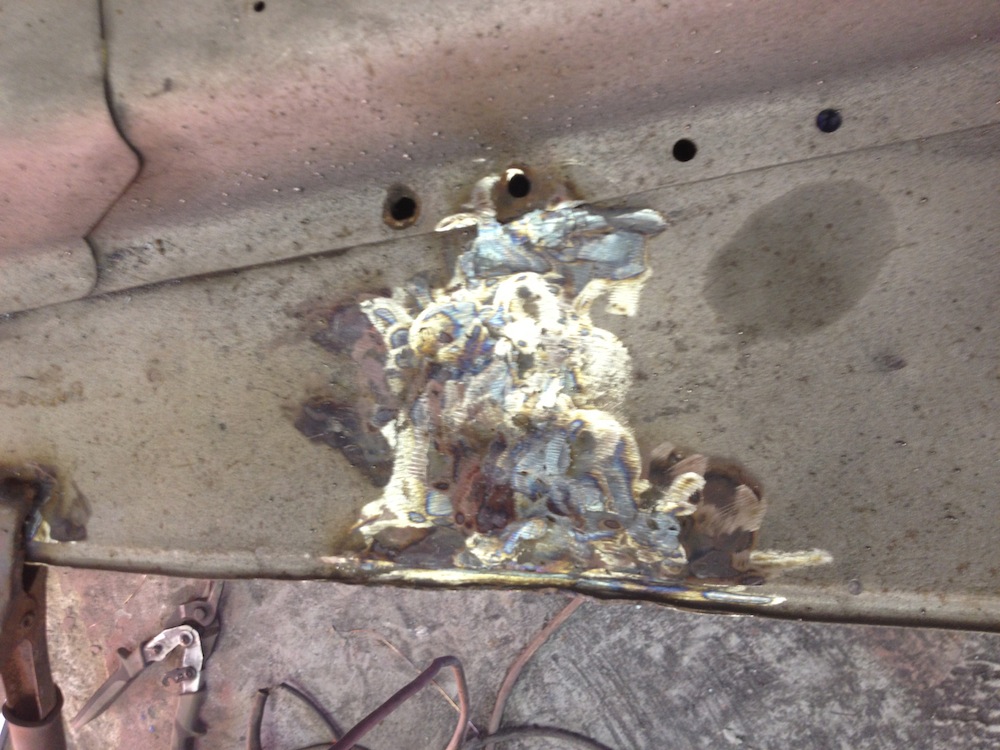 26/07. Found out some good news about the Vespa today. We have identified through the frame and engine numbers that the bike is a 1971, a lot older than I thought it was and only 2 years older than the 500 so a good companion.
29/07. The new bits I ordered arrived today. Horn cover for the front and the alloy surround for the leg shield. I ordered these first as they will help me make sure all the alignment is correct.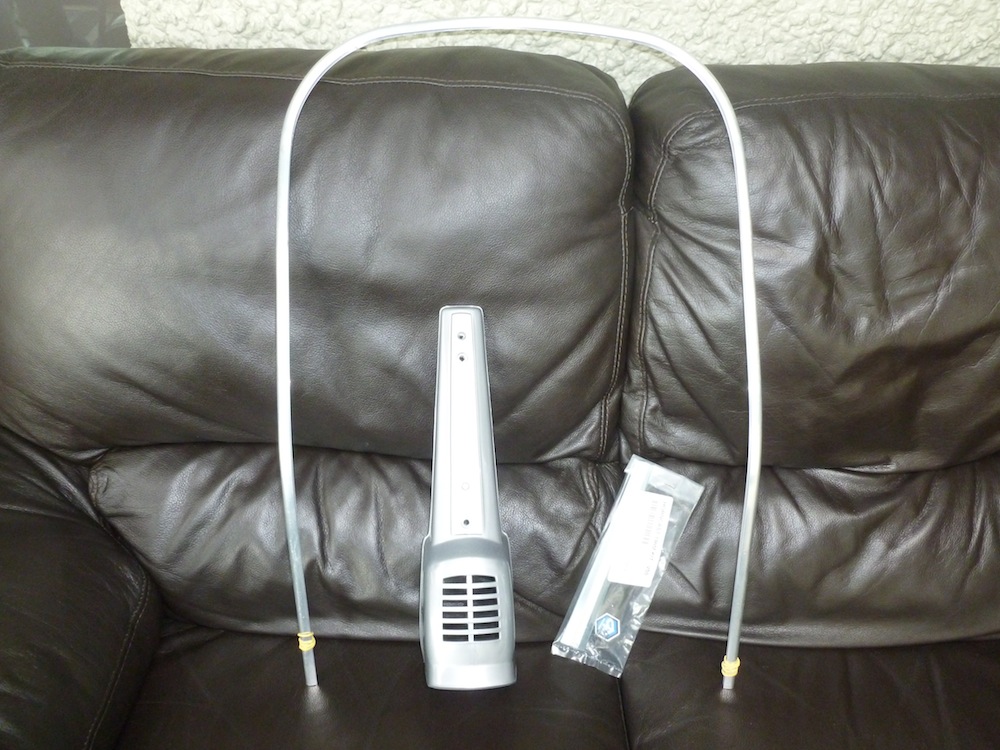 03/08. I sprayed a guide coat onto the scooter today. The idea is that when I flatten it all back it will highlight any areas that are low and any dents I've missed. I except that the bike is never going to be a show winner but it meant more to me to keep as much as the original bike as I could. We'll see how it goes.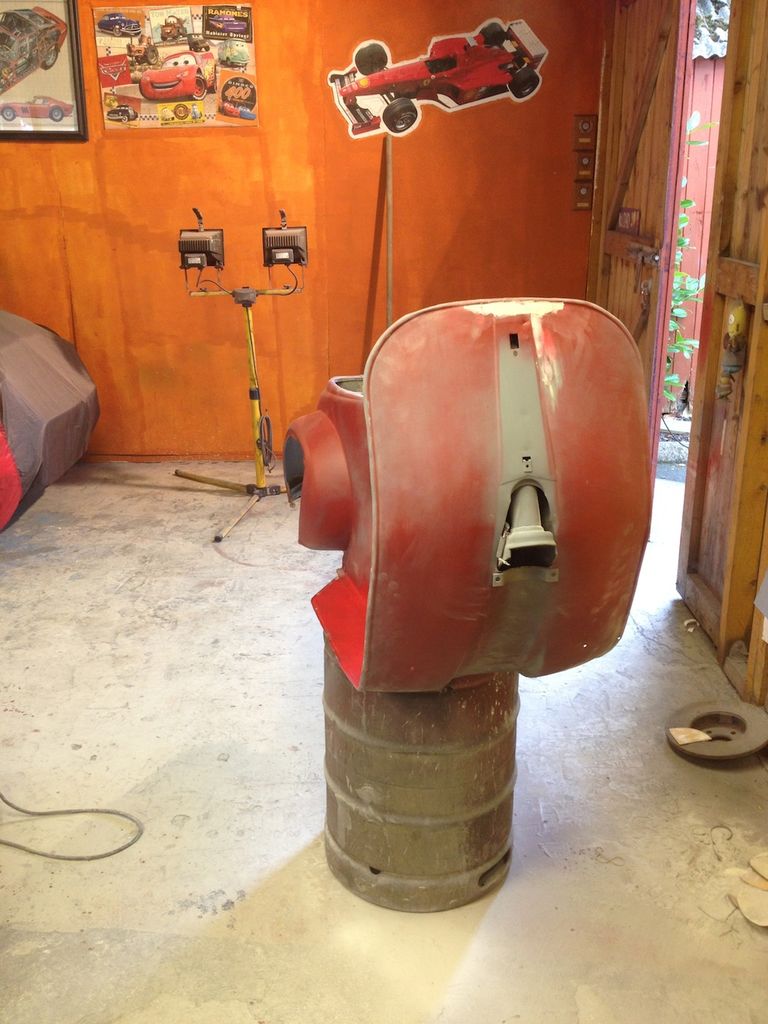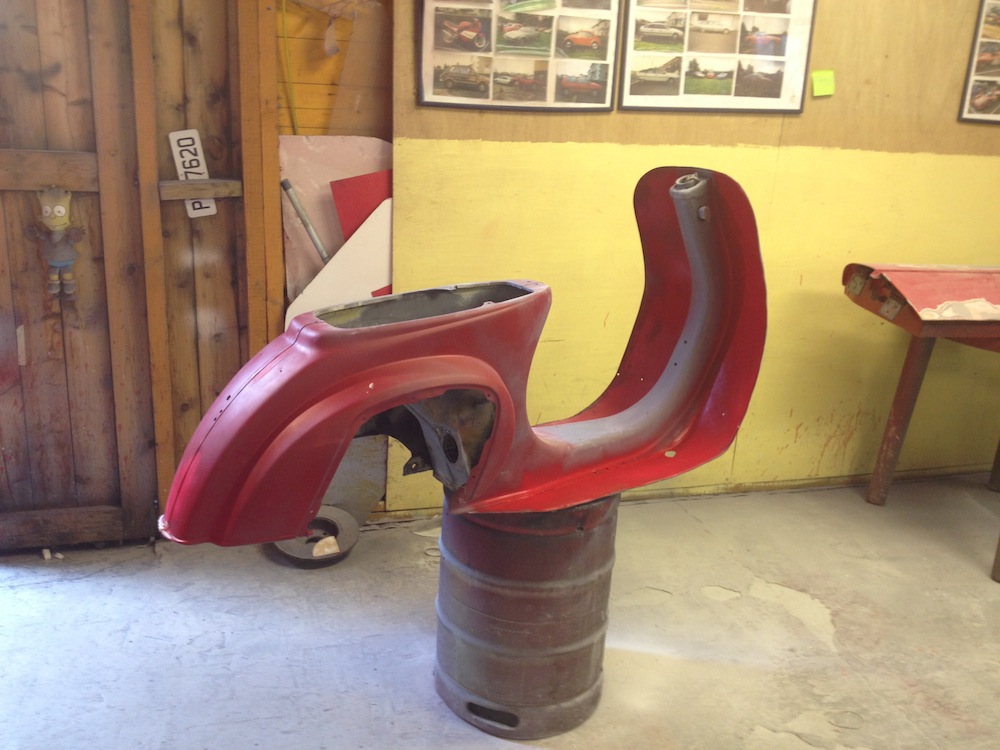 I've to leave the engine round to my fathers as he is going to do the rebuild on it. However I checked over it to see if there was anything awkward to take off. The nut for the rear wheel hub is in a bit of a state and clearly someone failed to get it off in the past. The only way I could get it off was with a chisel.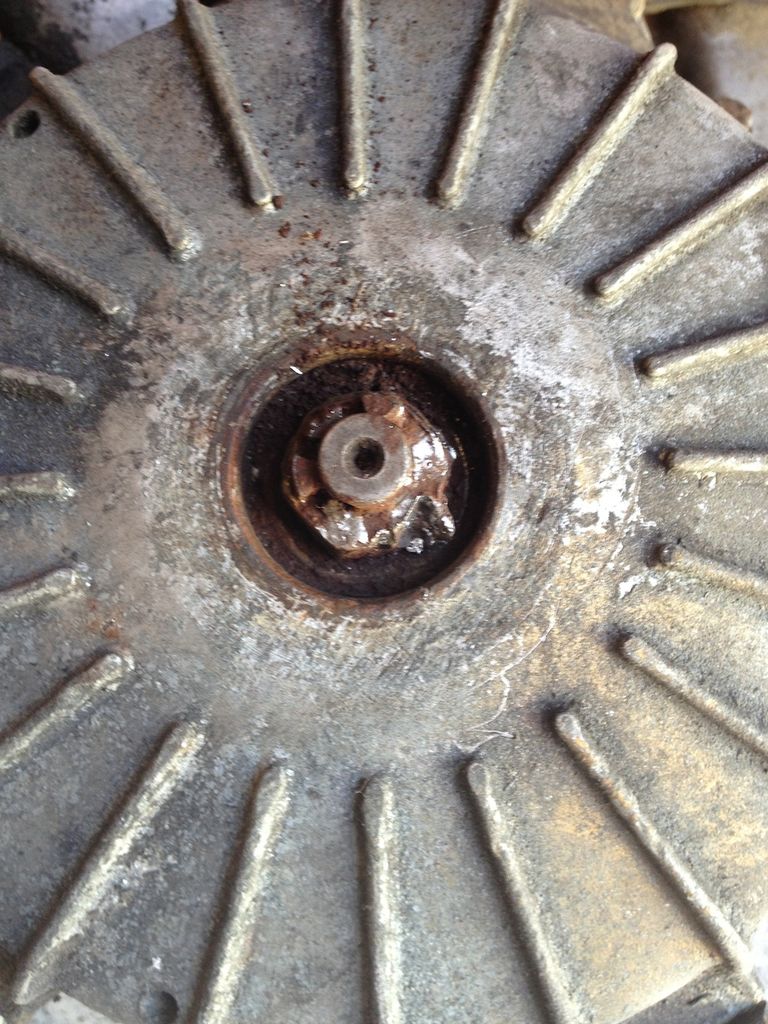 22/08. A new engine cover came today.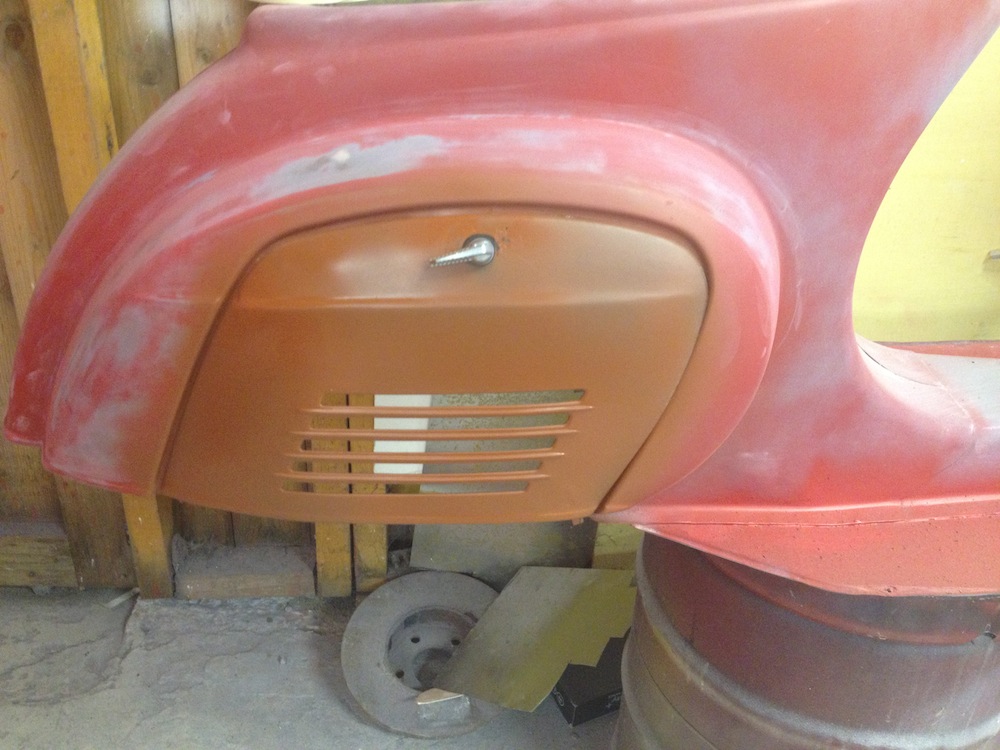 Unfortunately its going to need a bit of fettling.
23/02/14. Things are moving at a slow pace due to other commitments. My Father is working on the engine when the weather isn't so cold. He got the head off the engine to check the piston.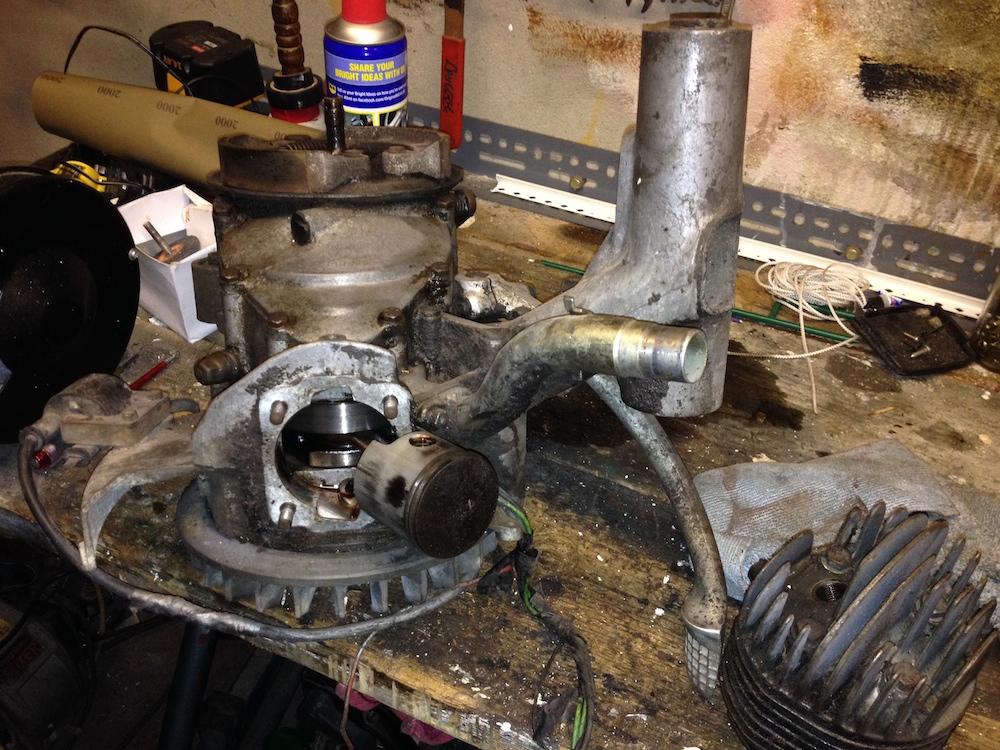 The piston looks a little scored to me but it does seem smooth enough. I'm going to replace it along with the bearings.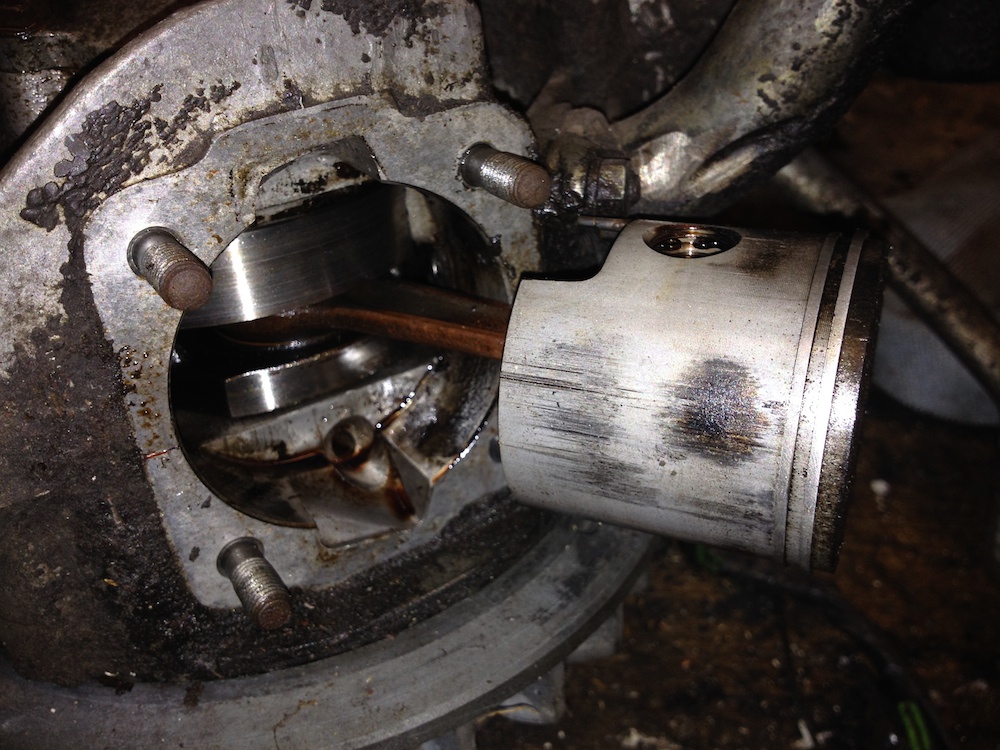 Forgot to add this photo. The frame primed white. It will be flattened back again to reveal any further imperfections.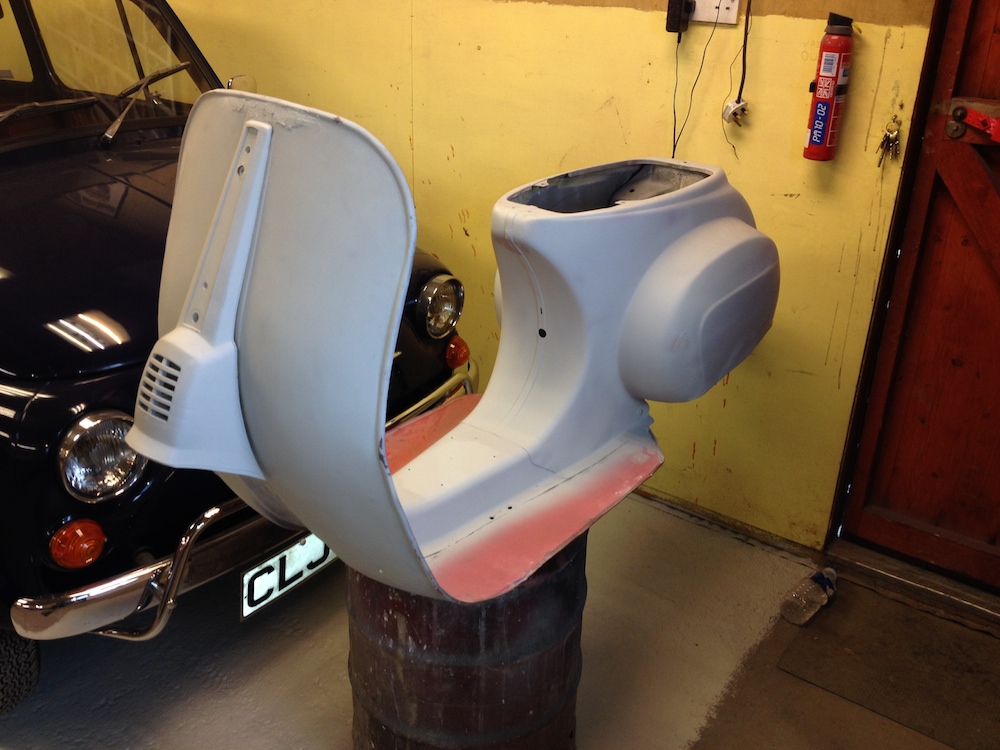 22.04. I know its not an original feature but I decided to stone chip the underneath and inside the frame as the Vespa is probably going to be sitting about a lot so I want to preserve it as much as possible.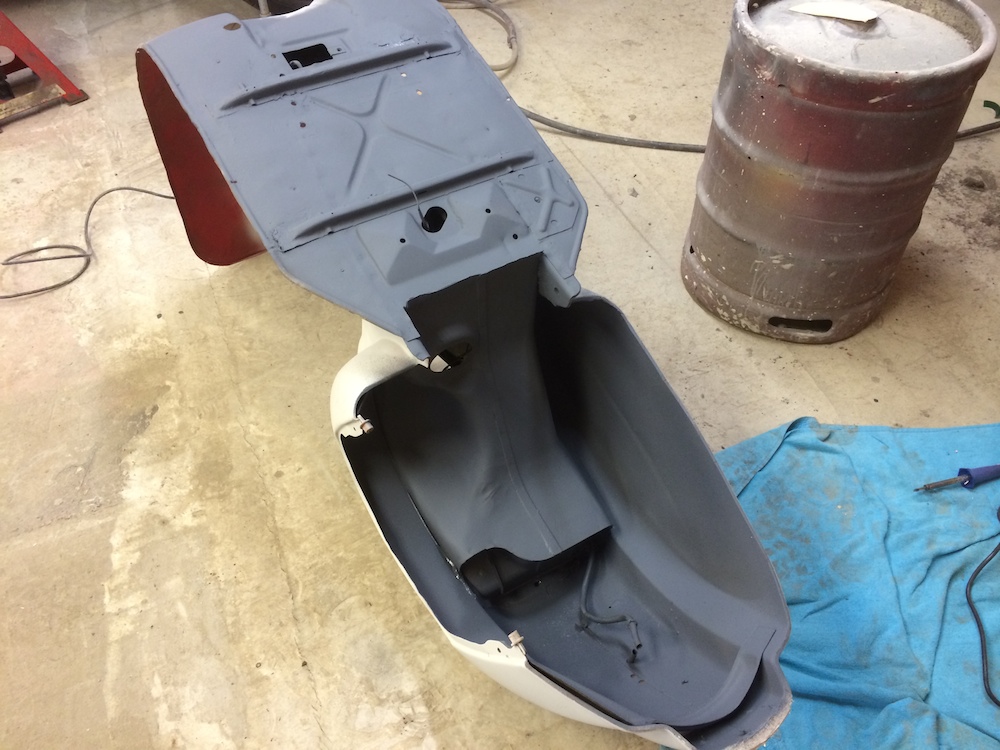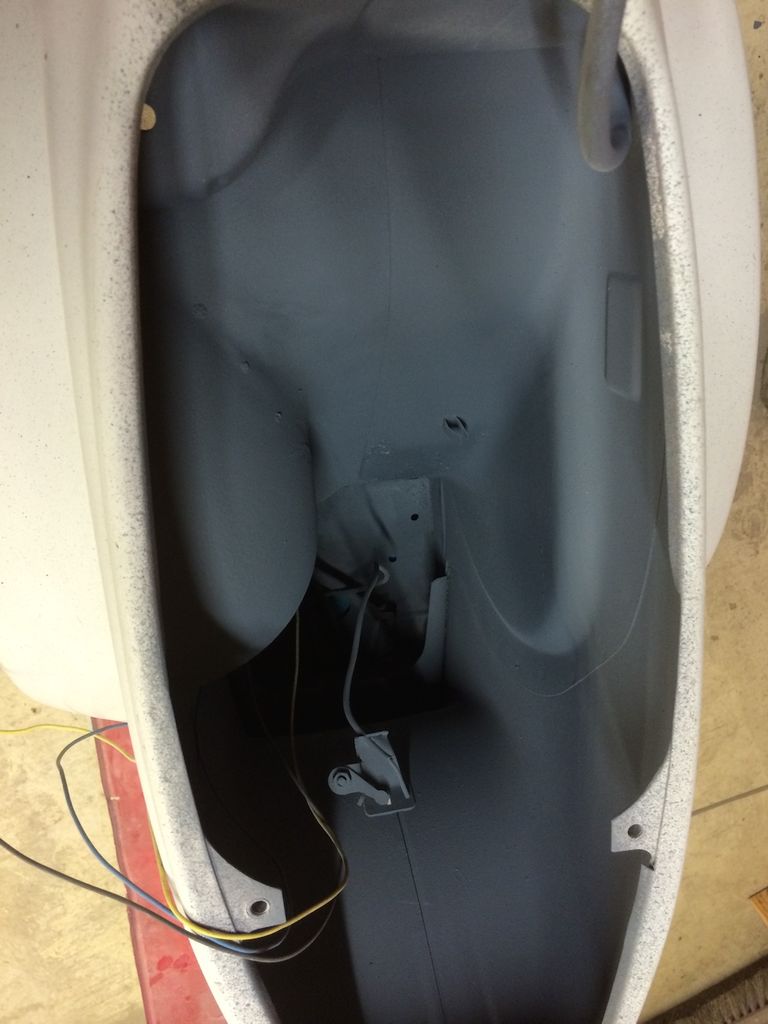 30/05. final prime for the frame. I decided to do this with primer filler as the frame had quite a few imperfections due to the amount of neglect its had. I've done the best I can but I fear its never going to be a show winner.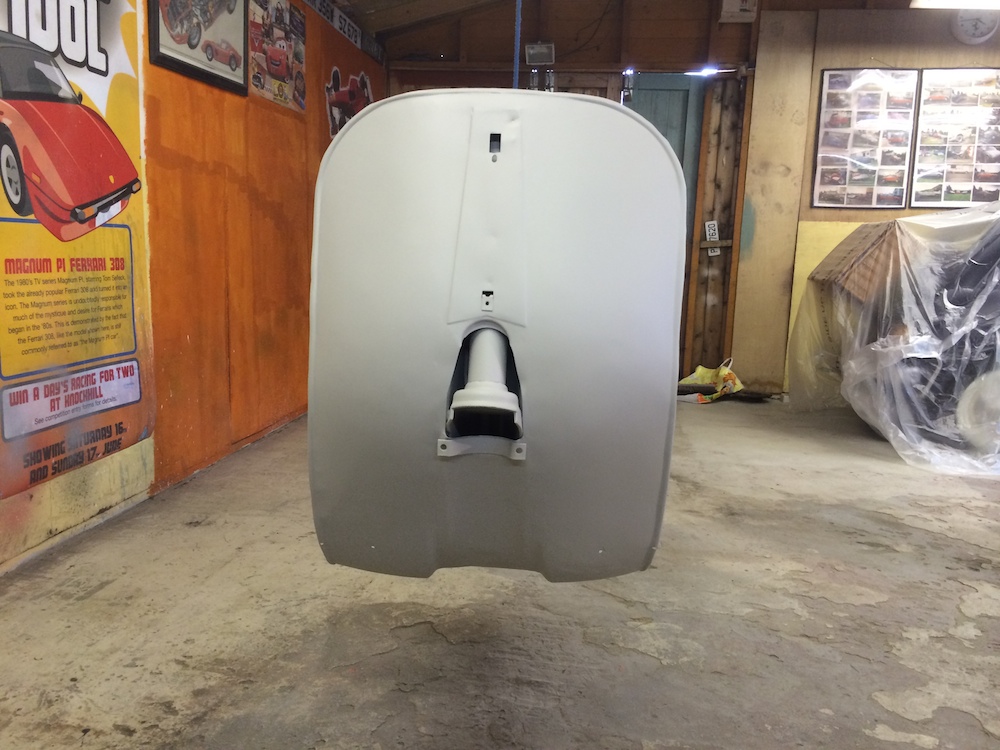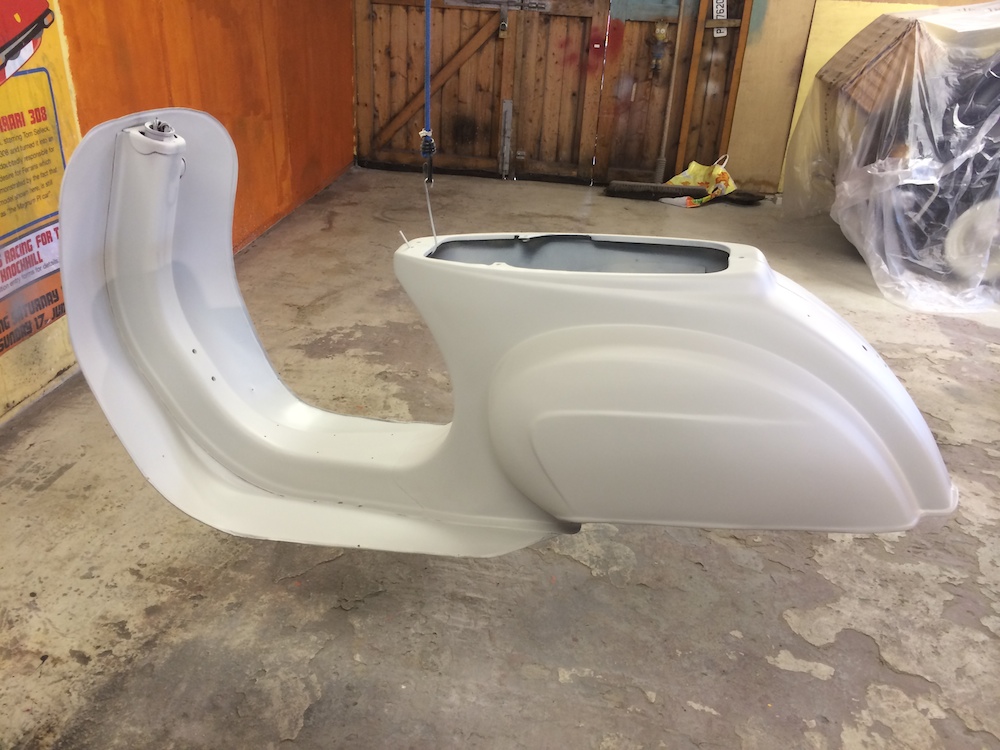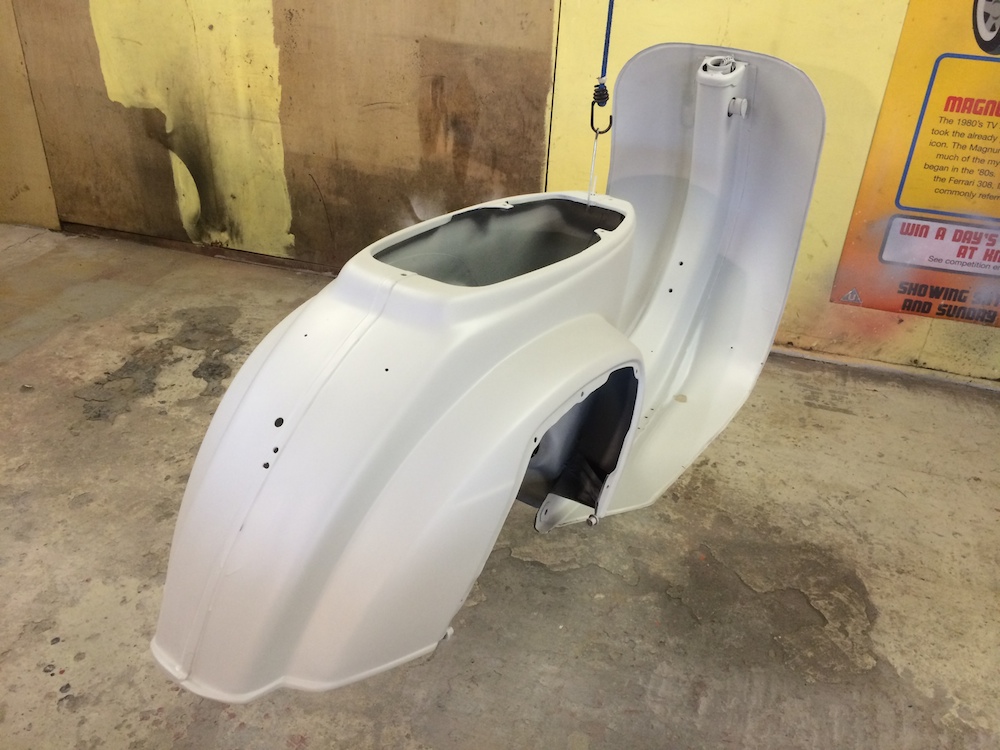 Still a few imperfections to work on but I think I've got all of them now. so nearly ready for paint.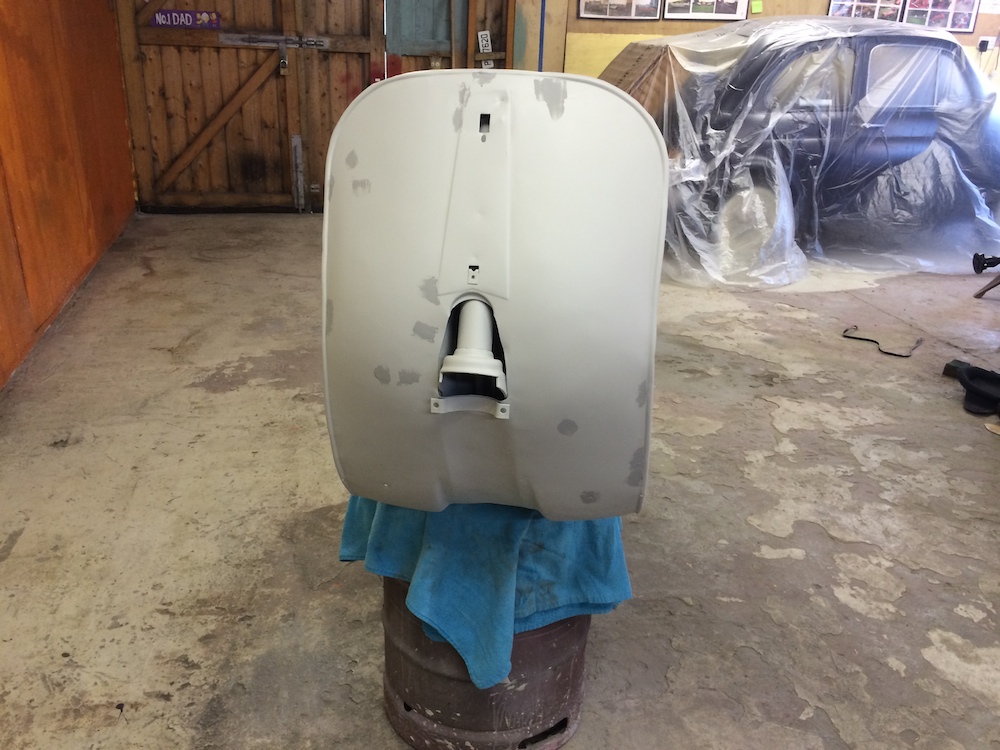 09/06. I got the frame painted this morning. I painted all of the underneath and inside the engine area. Only once I get the paint all flattened back will I see how good or bad it has turned out. Here's hoping.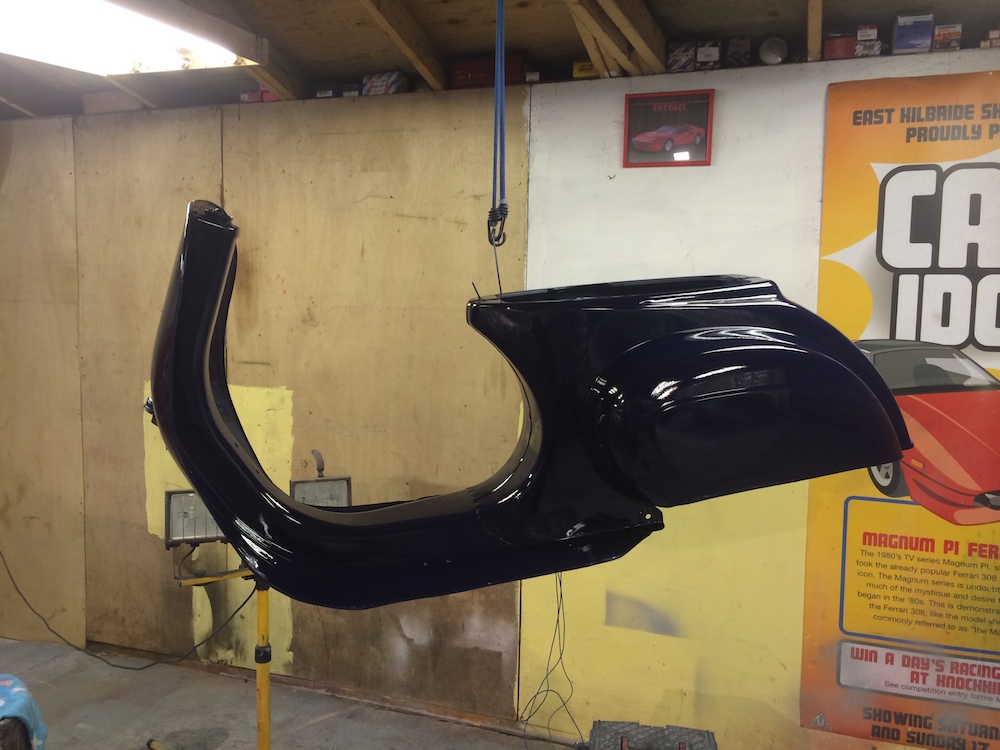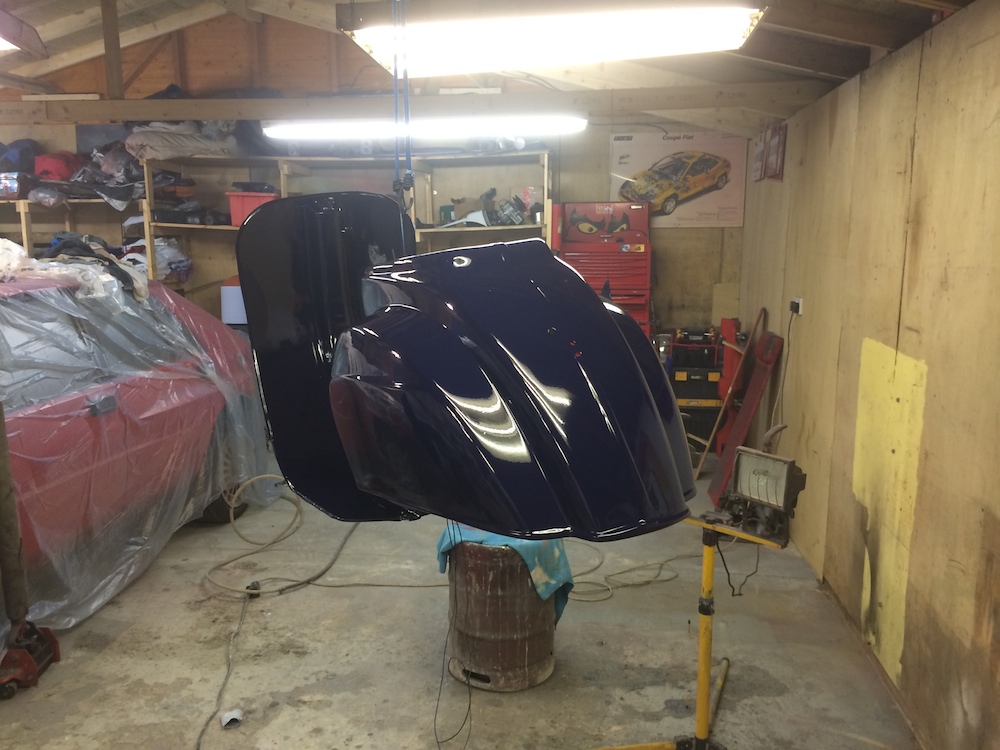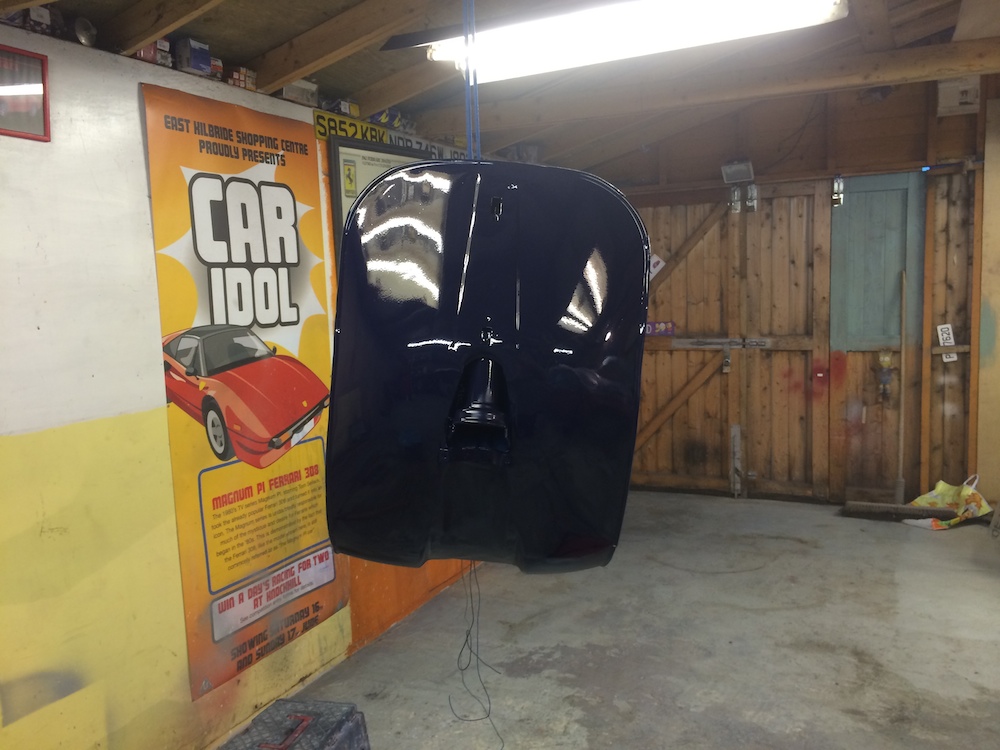 11/07. New brake and clutch handles arrived today.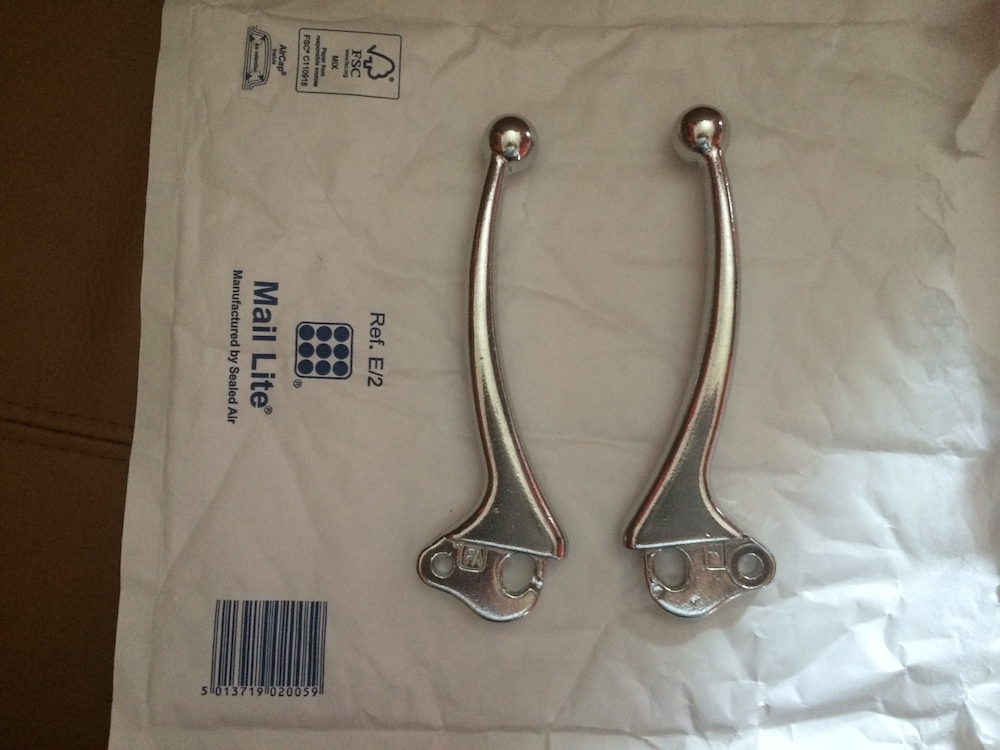 19/07. The new hand grips arrived today.
With them arriving it give me enough inspiration to start rubbing down the handle bars. Hard to tell what colour the bike originally was going by the differing colours!
I got bored with that and decided to flatten and polish up some of the paint on the frame as I haven't tried to see what the finish is like. Seems to have turned out ok. I'll be back and forwards to it over the next few weeks so no more reports until its all done.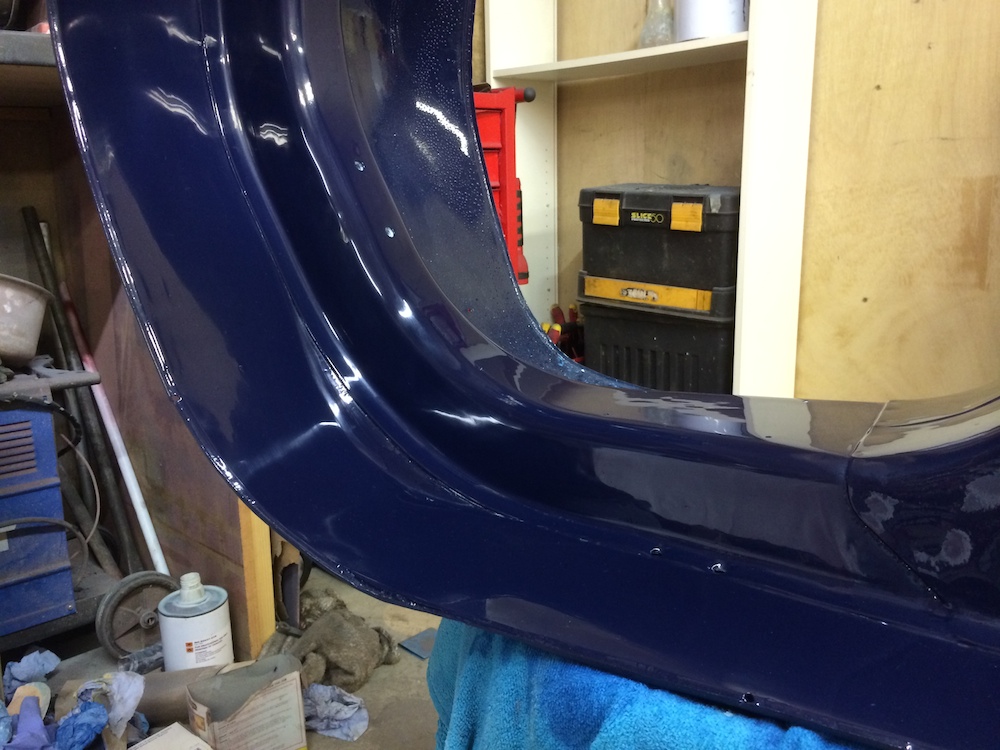 23/08. Finally got the frame all flattened and polished up. As you can see in the photo's I have added a chrome edge to the frame. It's not a Vespa one as I wanted something a little different.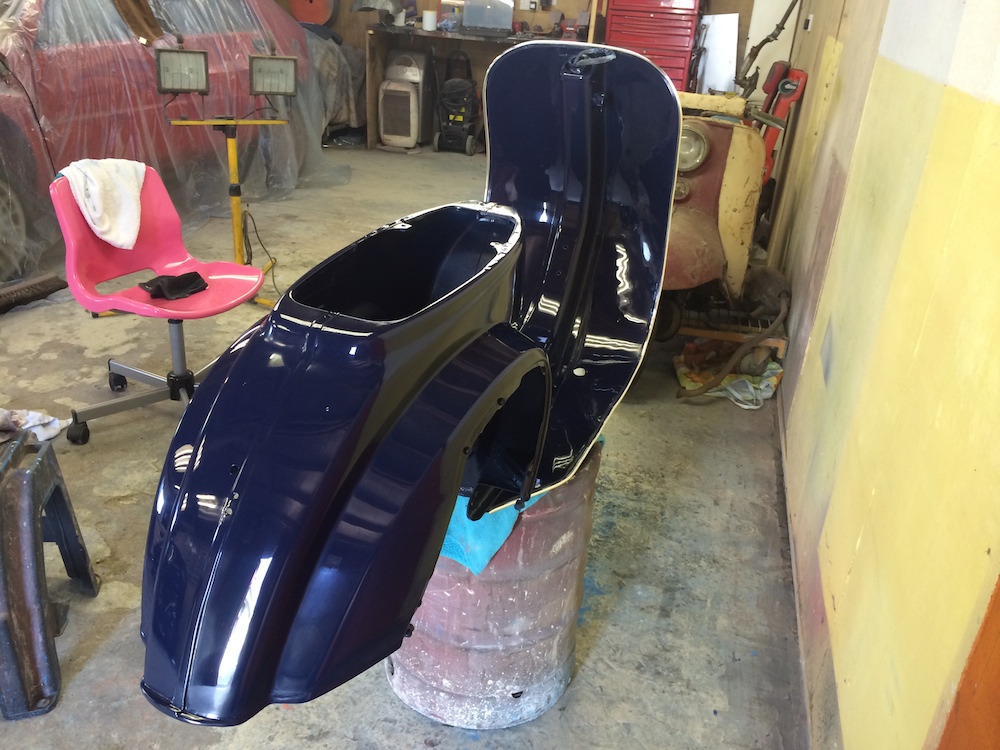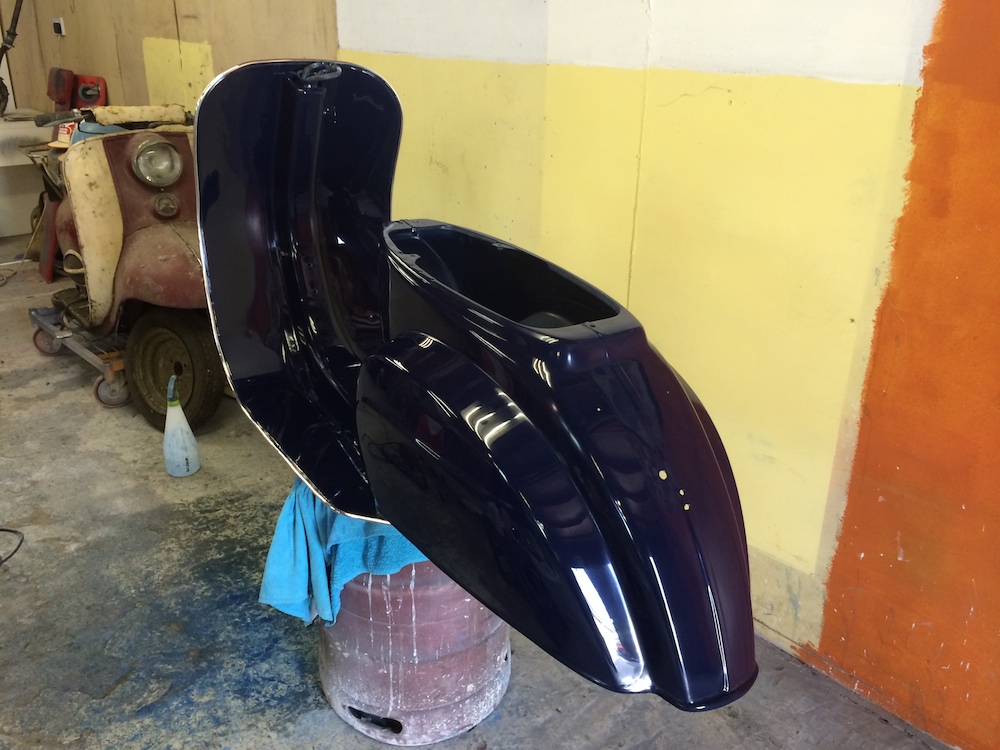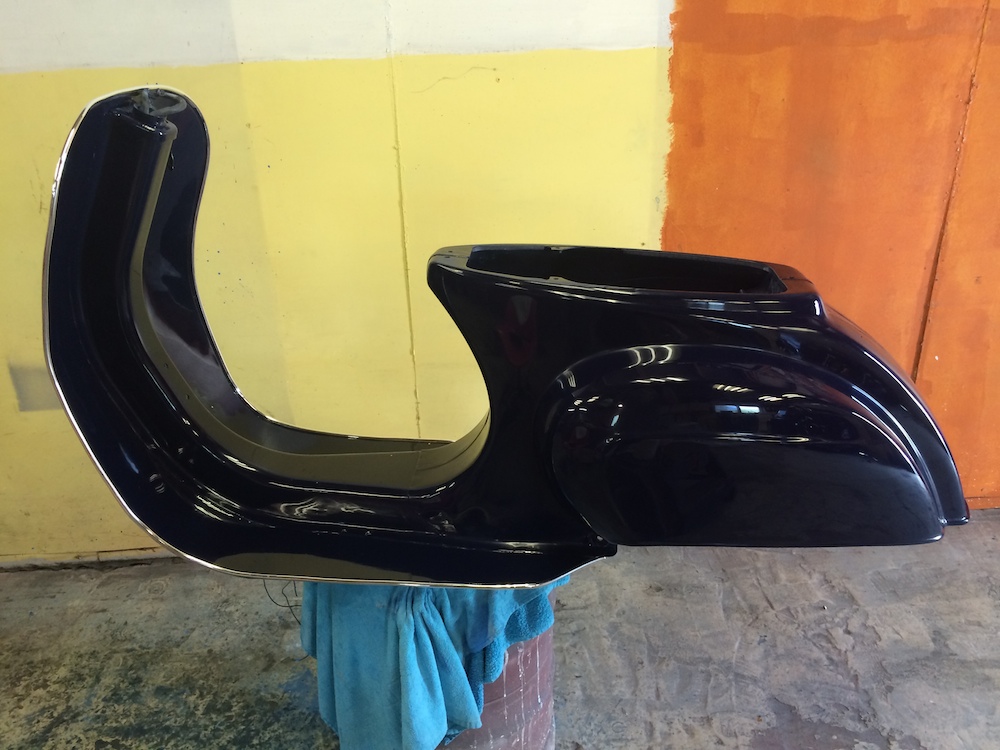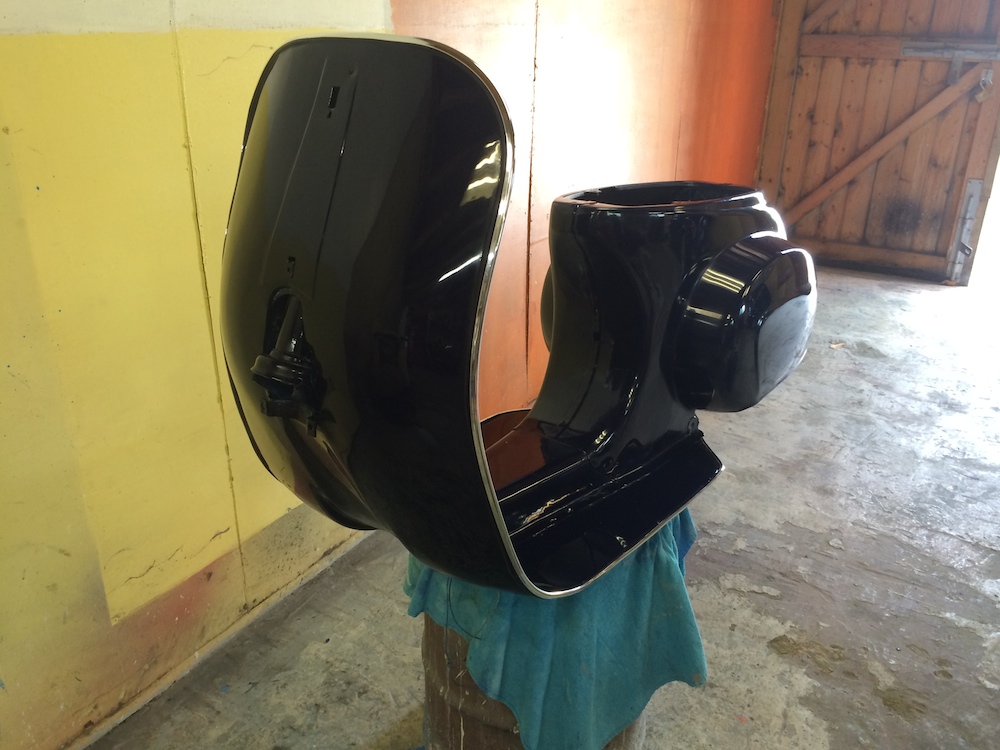 I also got the old wiring loom out and replaced it with a new one.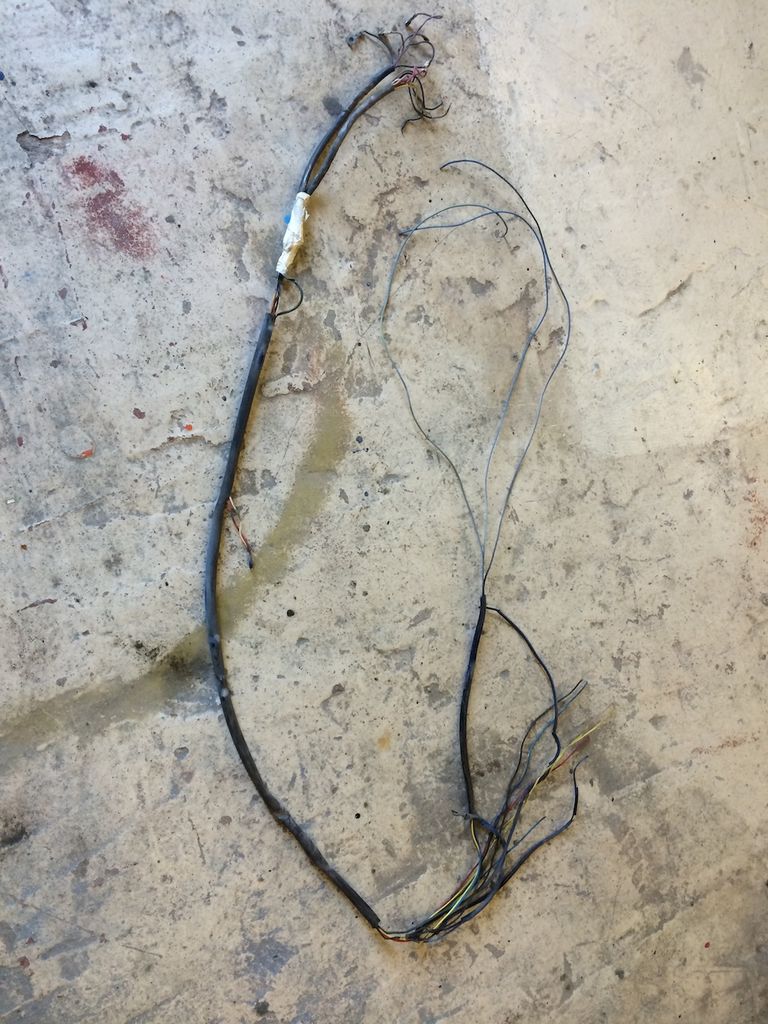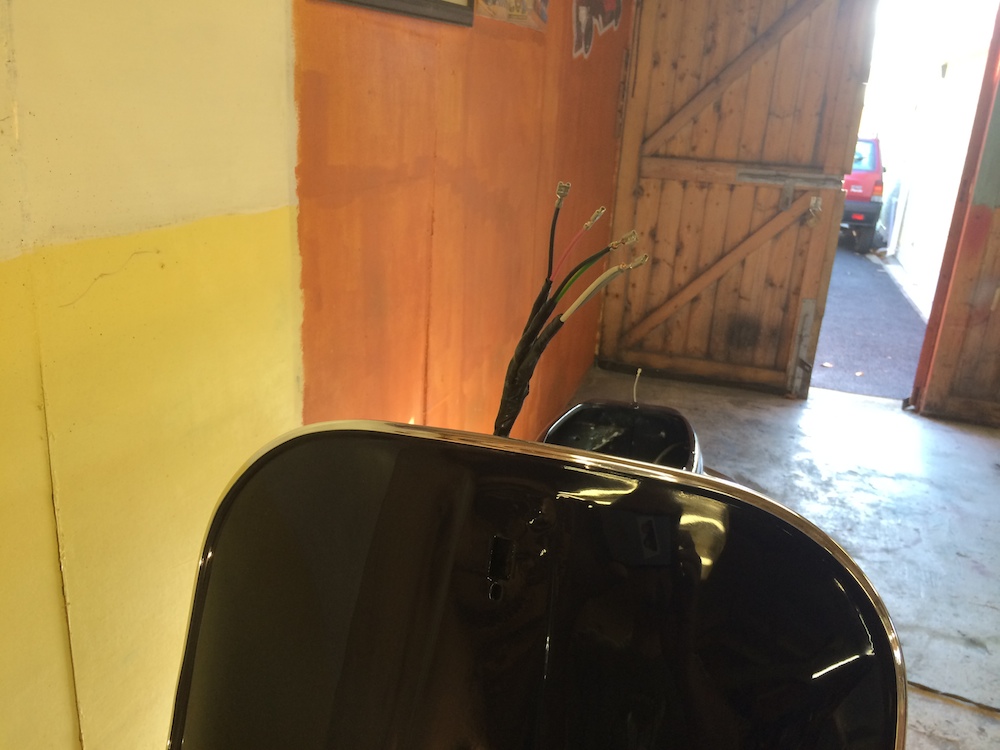 Next jobs is the front brakes, suspension and steering bearings.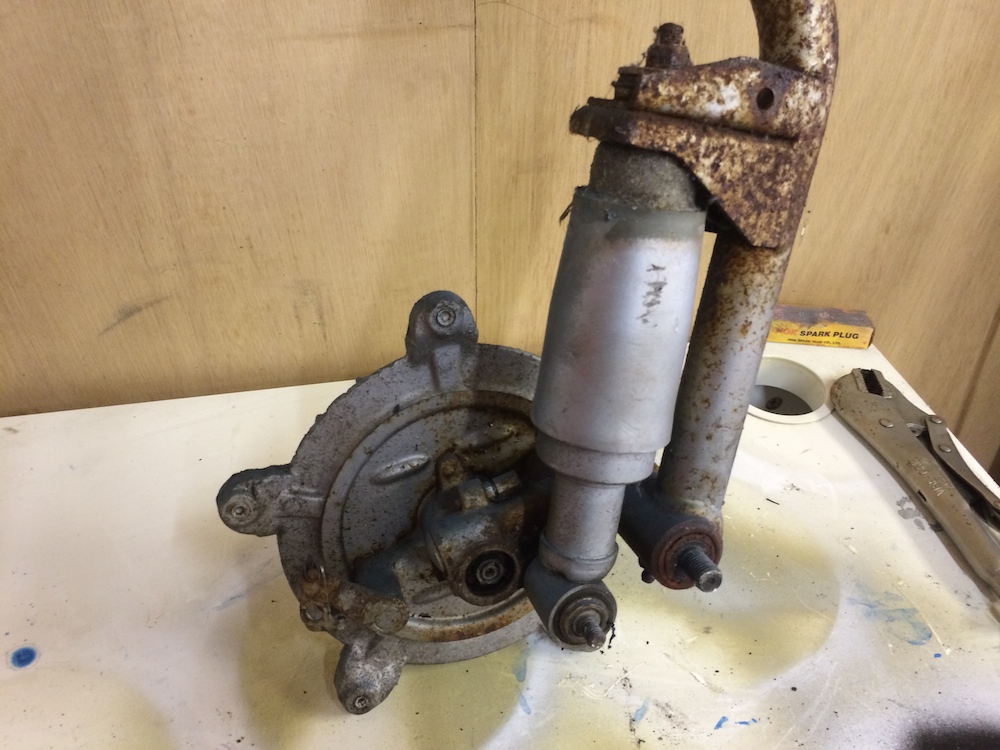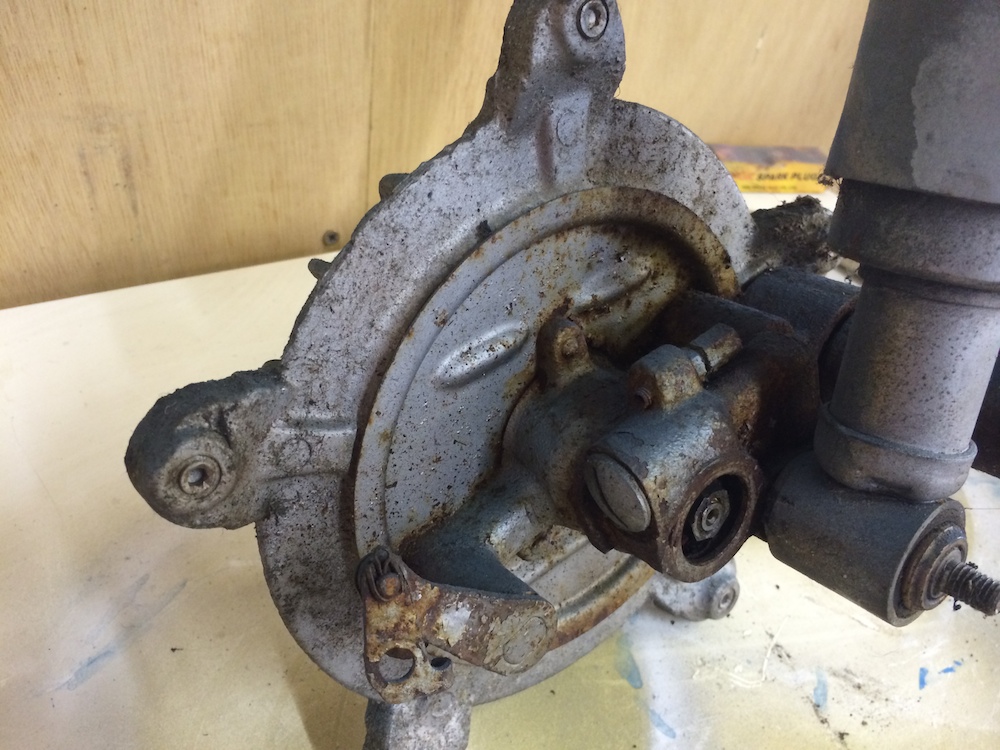 30/08. I now have the handlebars painted, just have to flatten them back. I also got the front suspension all stripped ready for new bearings etc.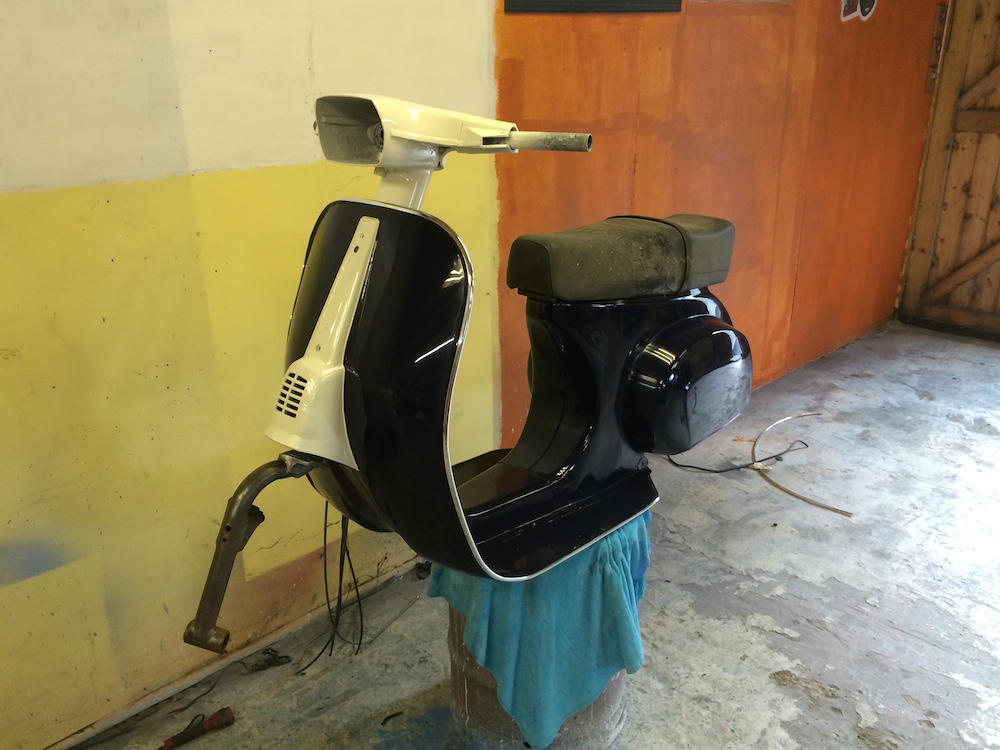 Brake pedal is in need of a good clean up.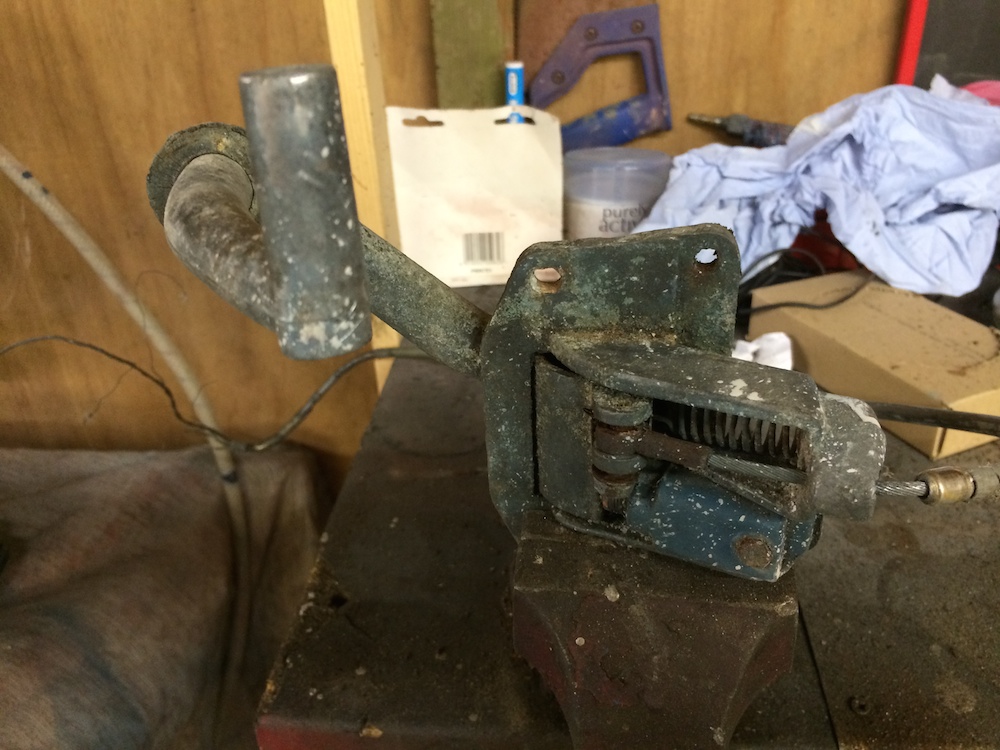 The from mudguard is in pretty bad shape with a lot of dents and actually twisted a little. I'm going to attempt to hammer all the dents out to see if I can fix it, its practice for me if nothing else.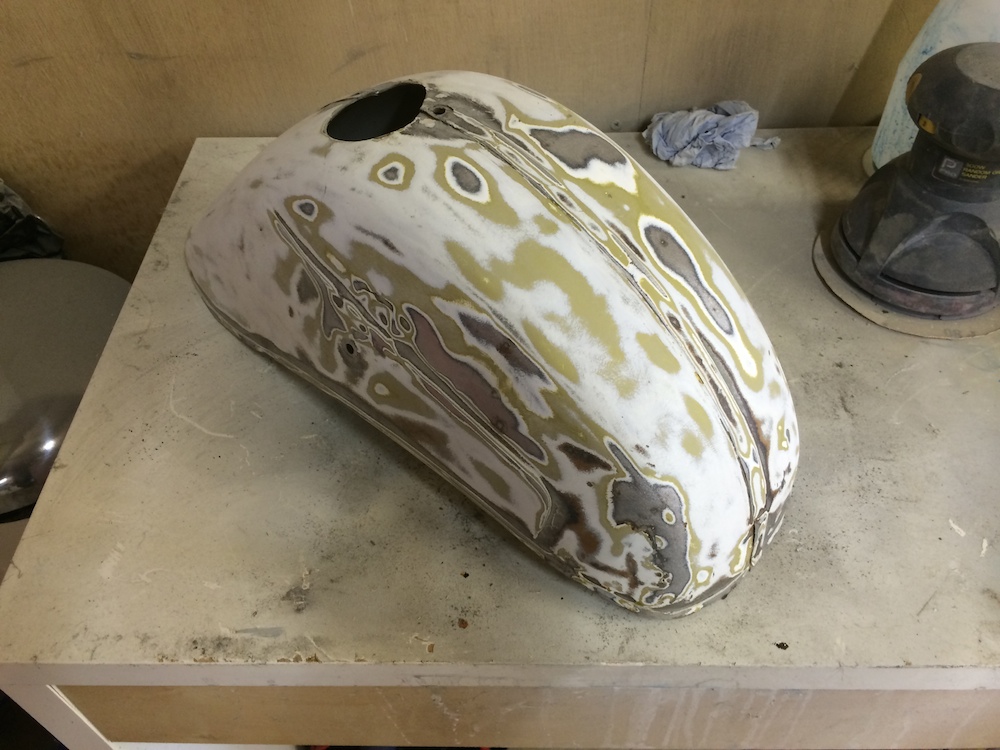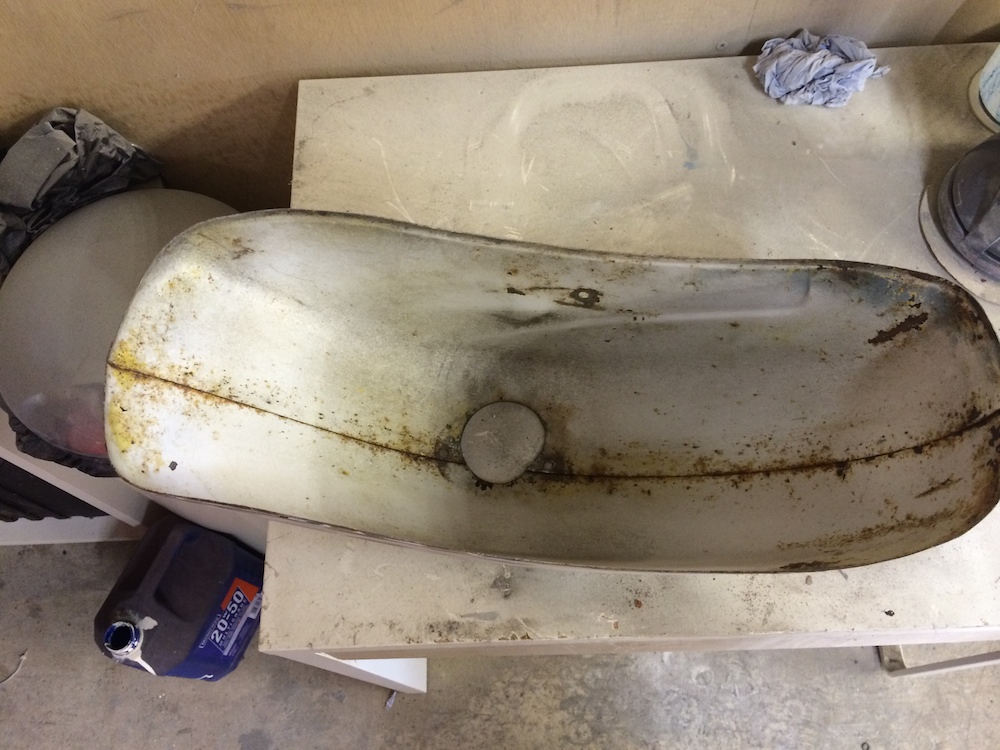 25/01/2017. It's been a while since I updated whats been happing with the Vespa so I'll bring it up to speed as quickly as I can.
With the body done I moved on to the engine.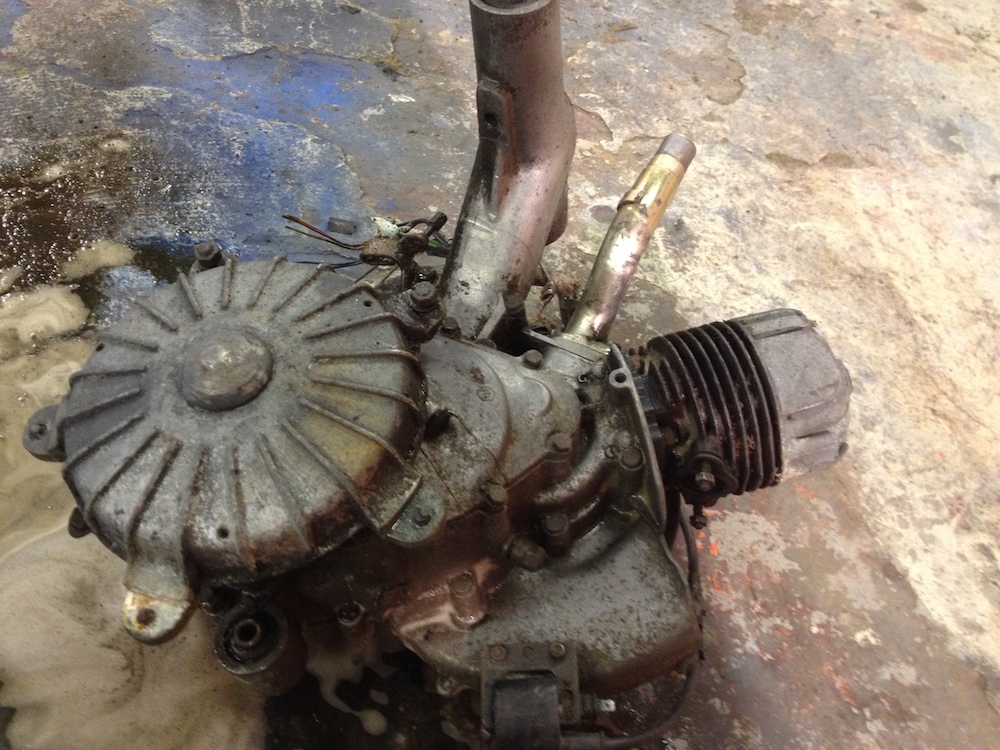 It was a bit of a mess and I'll be honest now, my gaol at this point was to get it cleaned up and into the bike so I could get it back on its wheels so it is going to be a non runner for now.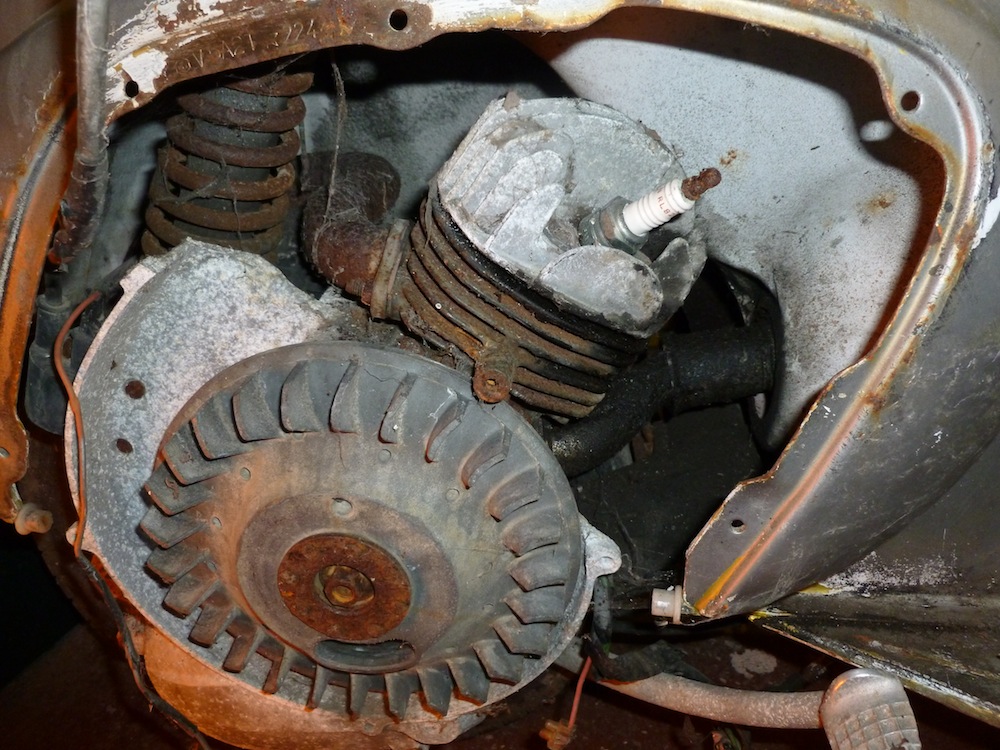 Cleaned and painted and ready to go back in.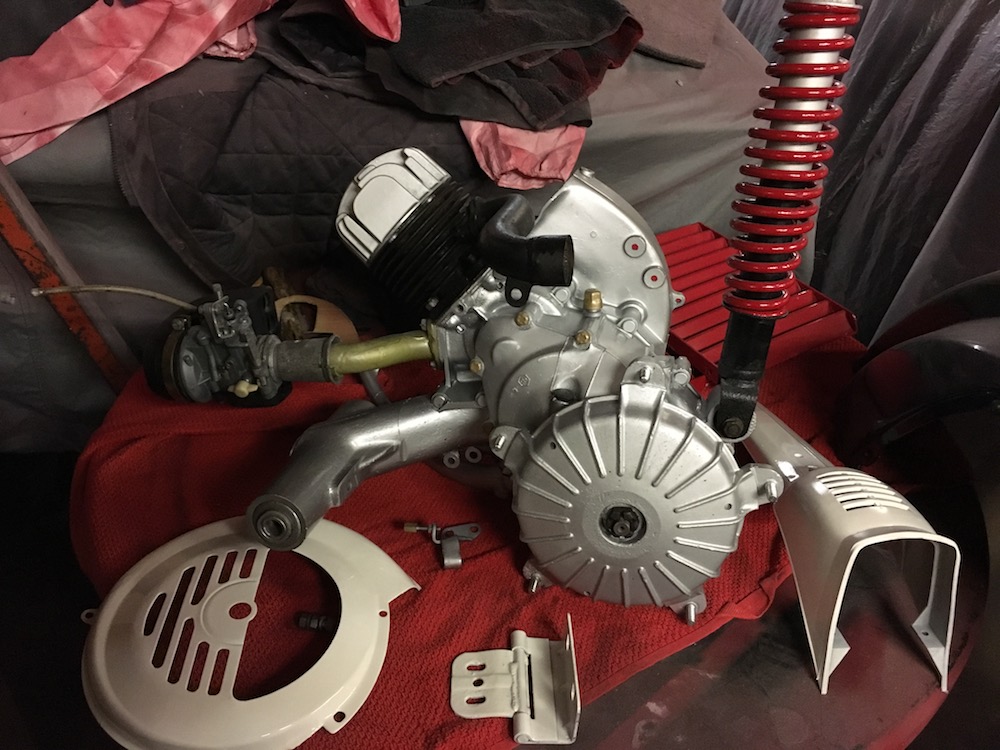 Front suspension now finished.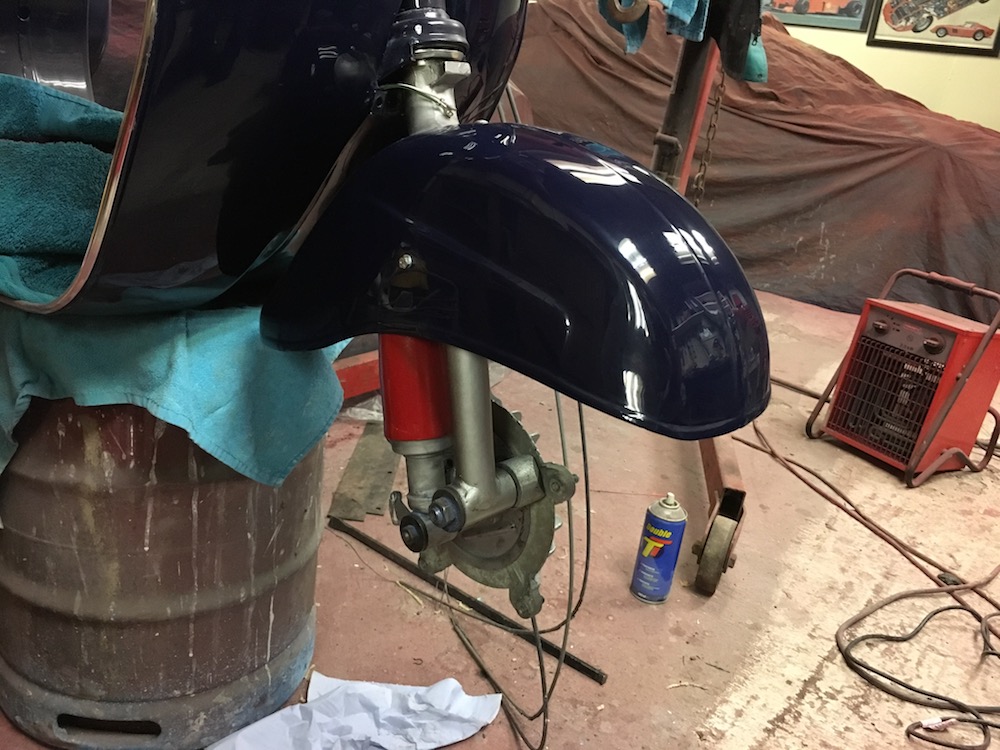 Seat next and it was in a bit of a mess, pretty much like the rest of the scooter when it came along, It even had a chunk out of it.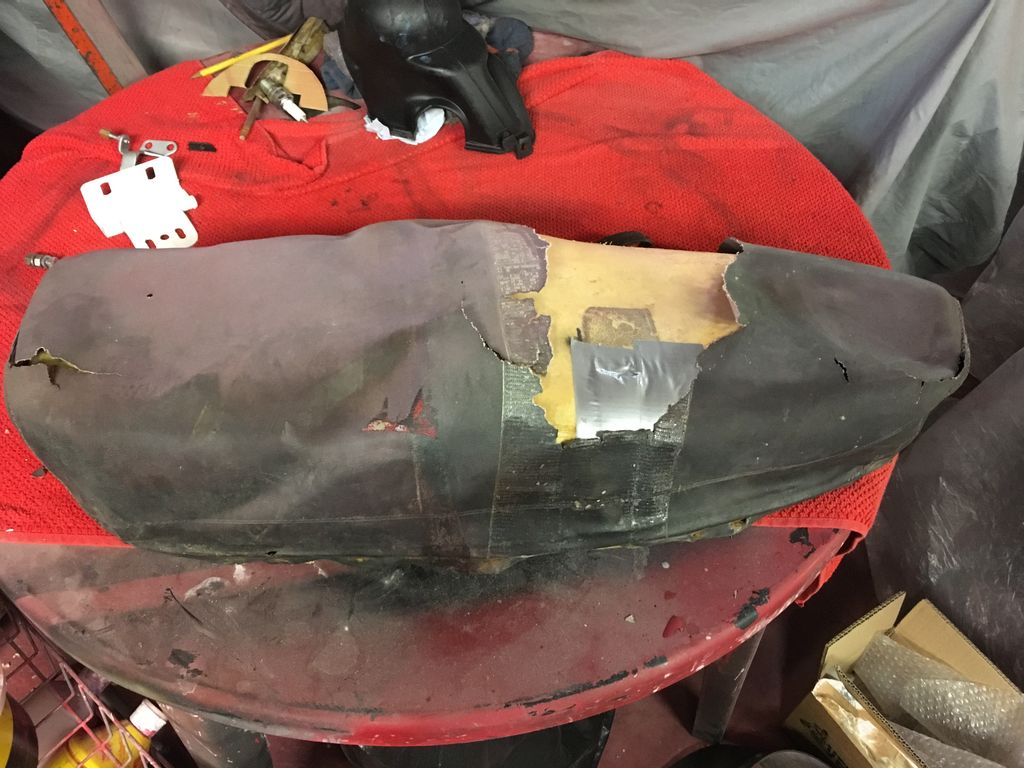 Chunk filled with new padding.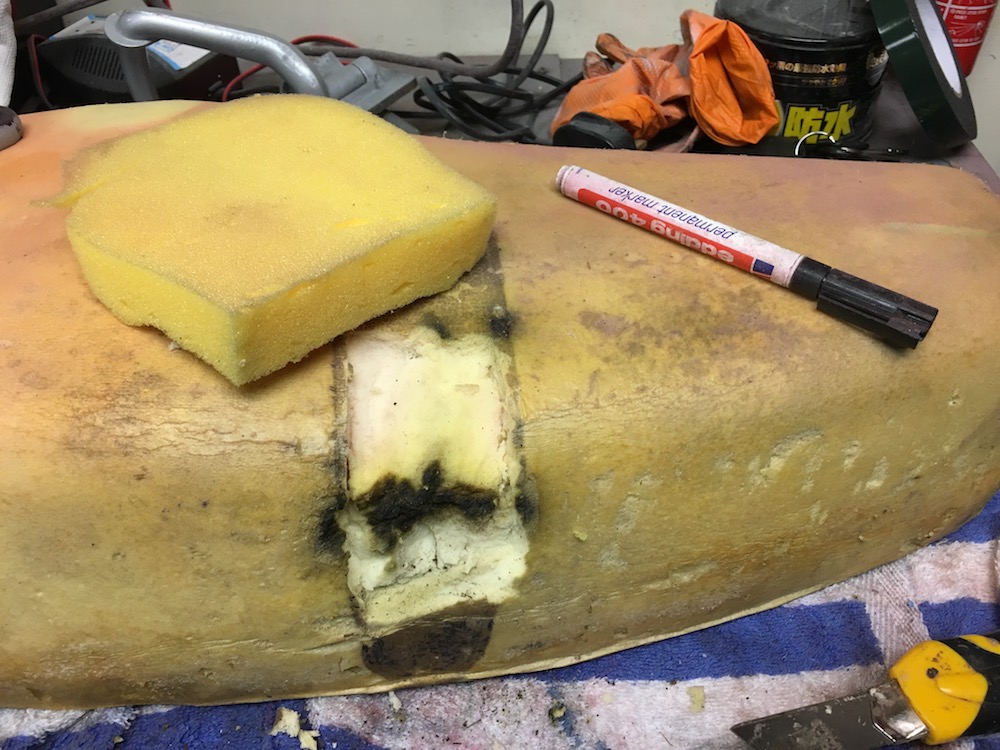 And tapped up until the glue dried so it could then be shaved into shape.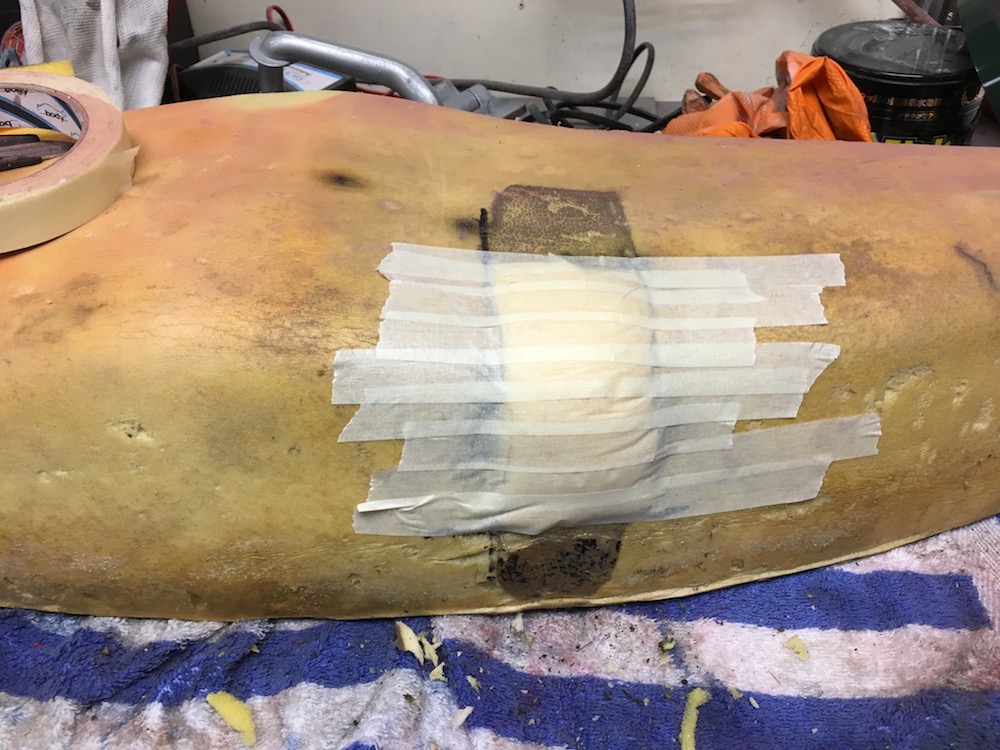 New leather bought for the seat cover to match the seats in my Fiat 500.
And templates made from the original cover so I can make the cover.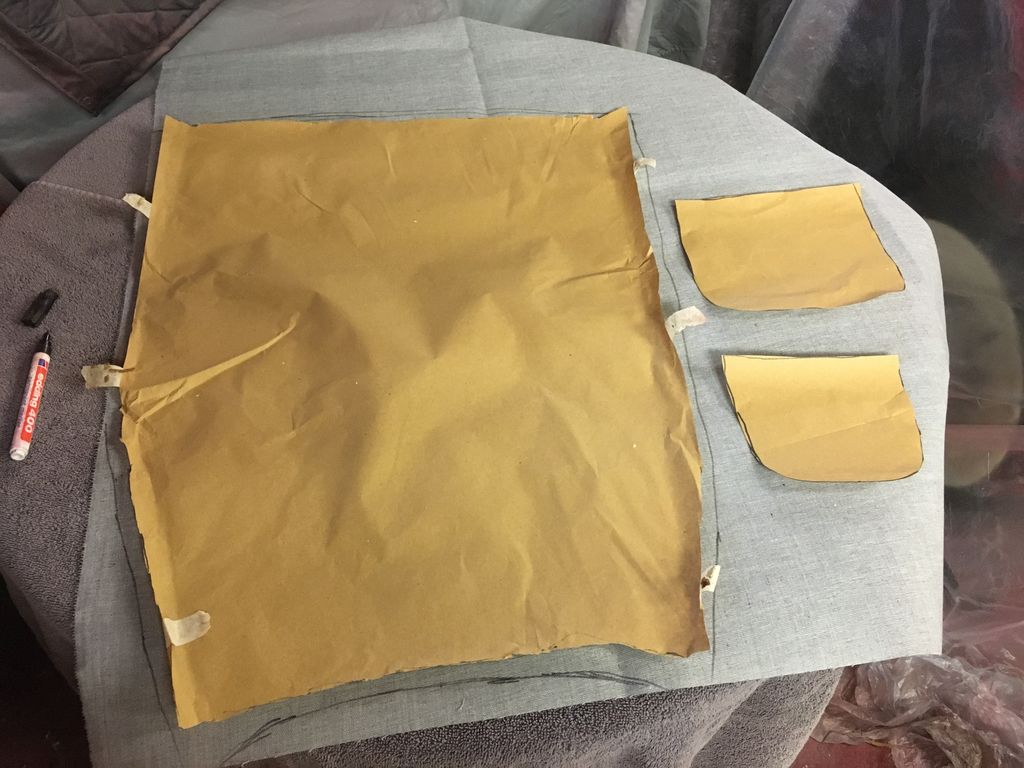 Finally wheels stripped for painting.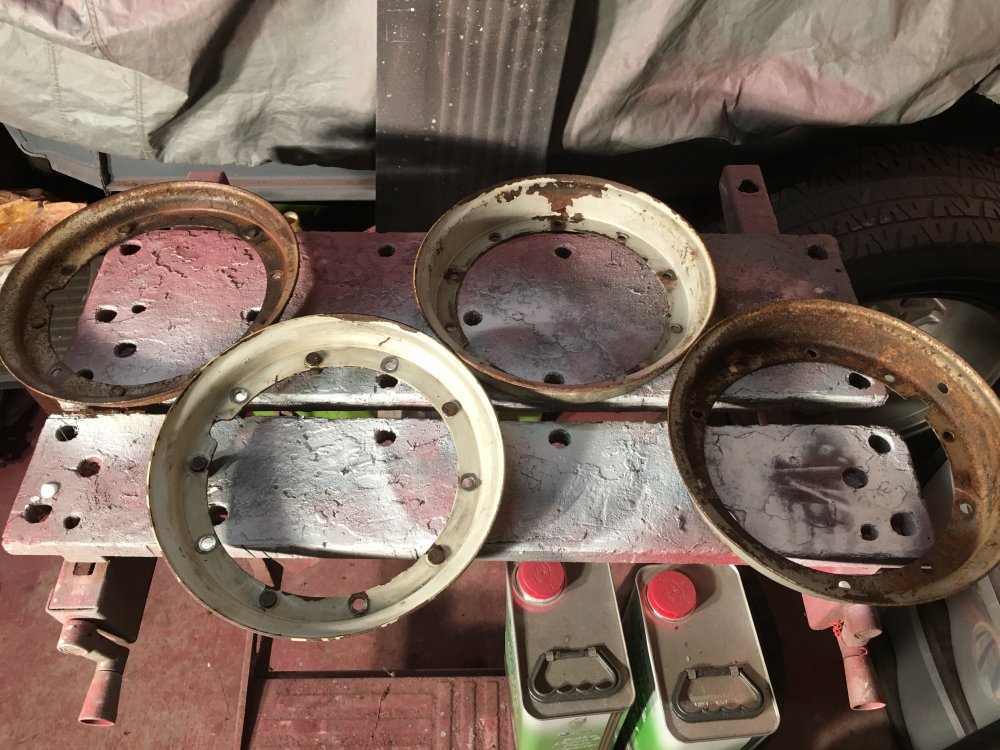 Painted the same as the wheels on my 500.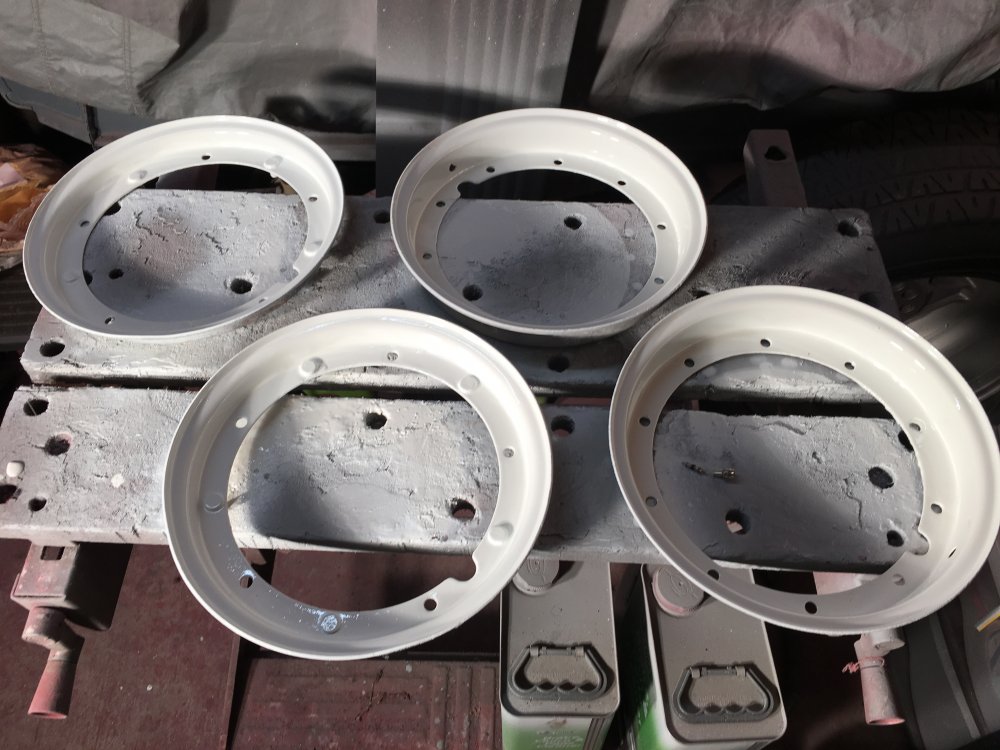 Engine fitted back in the bike.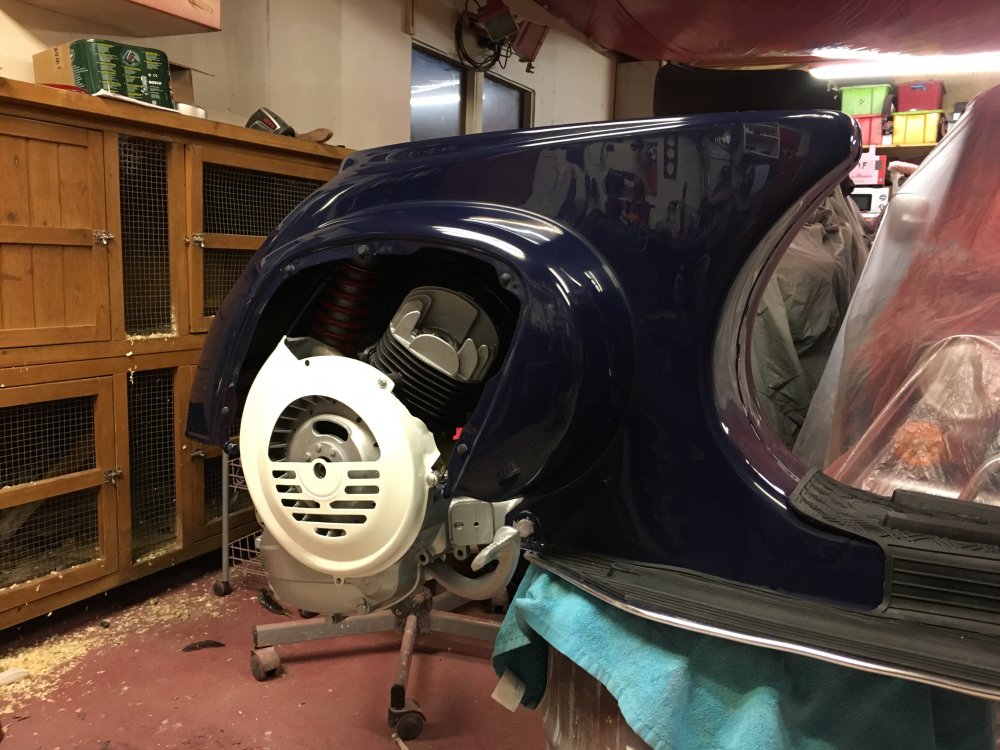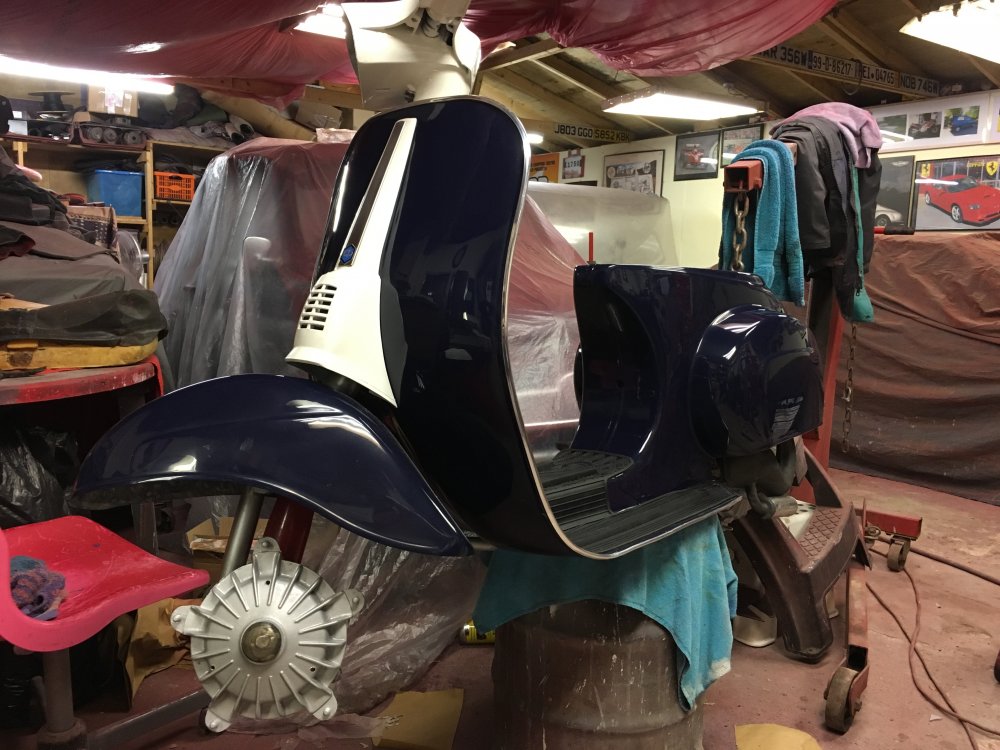 Wheels put together with tires and whitewalls fitted and the bike finally back on the ground.